Published November 7, 2006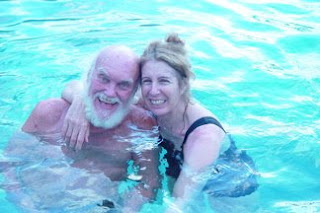 In August, as I was leaving on a trip to the West Coast, I got a call from David Brittan, who said he edits the Tufts University Alumni Magazine and wanted to hire me.
I've never written for an alumni magazine and did not go to Tufts. Brittan said he'd read a piece I wrote for the N.Y. Times about Ram Dass, the beloved spiritual teacher, and wanted me to write a profile of him for Tufts. "Ram Dass went to Tufts," he explained.
"Ram Dass lives in Maui," I said.
"We'll send you there."
Three weeks later, I flew to Maui and drove to the house that Ram Dass rents overlooking the sea. He greeted me in his wheelchair, with an expression of utter joy–as if I were a favorite friend he'd been longing to see. That made me feel wonderful and aglow, and over the next three days, I watched him greet each person who entered the house with the same intensity and love.
Ram Dass looks healthier and more radiant than I've seen him since the stroke he suffered in 1997. He swims every day, in his pool or the ocean, using one arm, kicking his legs as best he can and moving faster than I. He's given up sugar, meat and smoking dope (a disappointment to this reporter). When I'd last seen him in 2004, Ram Dass was smoking medical marijuana almost constantly to relieve the spasticity in his arm, and because there were "side benefits."
In Maui, Ram Dass told me that he used to smoke pot because he felt inadequate as a spiritual teacher. "I thought my audience wanted to be high, so if I was lecturing, I'd better smoke so I'll be high enough to transmit that to them." He laughed. "One joint would get five thousand people high!" After moving to Maui, Ram Dass began working with a healer who urged him to stop smoking grass. Shortly afterward, Ram Dass was scheduled to appear at a church and had no time in advance to get stoned. "I was worried that my lecture was dry and intellectual," he recalls. "But when I looked out at the audience…they were crying, because they'd felt…emotion." He knows now, he says, that "I have the ability to go into that space of oneness and take everyone with me."
Indeed. I drift with him into that state of heartfelt oneness as we sit on the terrace, looking out at the pool and the astonishing blues of ocean and sky. Ram Dass says, "This is paradise. I've decided to die in Maui. I'm not getting on a plane again."
IN PART II: Ram Dass talks about merging with his guru, and preparing for dying.
NOTE: Ram Dass has always given his money to foundations he set up to help others, and never planned for his own older years or health care. He lives in a rented house that he'll be forced to leave soon, and friends are trying to raise money to acquire a permanent home for him. If you're moved to contribute, send a check, made out to Ram Dass Charitable Fund, to:
Ram Dass Charitable Fund, c/o Hay House, P.O. Box 5100, Carlsbad, CA 92018