Published April 23, 2007 by Sara Davidson
For three weeks, I've been lying in bed with my head down and my legs elevated and ice packs on my calf. A hematoma—a pool of clotted blood from internal hemorrhaging—has taken over my leg. It's the biggest hematoma—about 8" long and 3" wide—that my primary doctor, David Hibbard, has seen in his career, which is not the kind of record any sane person would want to set.
How the hell did this happen? I didn't fall, have an accident or trauma to the leg. The doctors I've seen can only speculate on what started the bleeding, but I blame it on Robert Butler, MD, whom I interviewed for an article about the science of aging, that will be published in the N.Y. Times Magazine on May 6.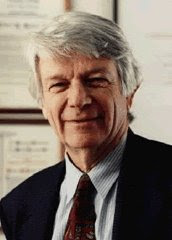 Robert Butler, MD, says you should take no fewer than 10,000 steps a day. Ha!
Butler, who's 80 and remarkably lean and fit, has charm, charisma, and, according to one of his colleagues, "He knows everything." He's the kind of 80-year-old I'd like to hang out with or, better yet, be. He helped found the National Institute on Aging, won the Pulitzer prize and runs a think tank on aging in New York.
Every morning he clips on a step counter, a black device that sits on the waist band and counts every step you take. "You should take no fewer than 10,000 steps a day—roughly five miles," he says, during our interview. "At the end of the day, I'll check the counter and if I haven't done enough, I'll go for a mile walk."
"That's awesome," says the young woman who's videotaping the interview.
"I've never seen one," I say.
Butler takes the step counter off his belt and hands it to me. "You now have one."
I tell him I'm scared to find out how many steps I'm taking, and the first day I clip it on, my fears are confirmed. I'm taking less than 2,000. (Hey, I work at home, I'm a writer)
So I start walking—I walk everywhere—to meetings, lunches and dinners, to the theater and home. It's great to walk through the streets of New York with the neon lights and the fantastic array of people streaming by and my favorite songs playing in my ear thanks to the ipod. It takes a hell of a lot of walking, though, to reach 10,000 steps.
When I fly home to Colorado, my calves and knees start hurting. They're sore from walking, I think, but in 24 hours, the left leg is so swollen from the ankle to the thigh that you can hardly make out a knee.
It's my own damned fault, of course. I should have worked up gradually instead of going for the 10,000 overnight. With my legs literally taken out from under me, I'm getting a hit of what may be ahead for many – some kind of physical breakdown. David Hibbard says, "Parts break down unexpectedly as we get older." But when you can't walk, fix a meal or drive—when you're helpless—whom do you call? Your friends love you but they're busy and you don't want to lean on them excessively. After a week of calling on friends for rides and errands, I'm fresh out. I need to hire a home aide, which my insurance, of course, doesn't pay for. (And I'm lucky to have insurance.)

David Hibbard, MD. Counting steps is "obsessive."
At the same time that I'm confined to bed, one of my close friends is undergoing cancer surgery and another is having a hip replaced. This underscores, for me, the need for community, for new forms of housing and healthcare and interdependence, so we can support each other and cultivate grace as the body slides inevitably to its landing point.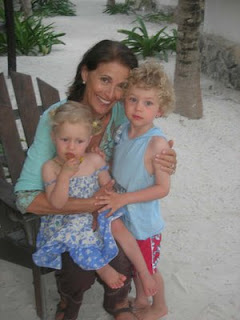 Nance Warner with grandkids – "Time to shift the focus from the physical body to the inner being."
Nance Warner, a retired psychotherapist, who's one of the most serene people I know, says, "I take comfort, as I did when I was giving birth, in knowing that millions have gone this way before. In fact, everyone has gone this way. It's a well trodden path." The focus needs to shift, she feels, from the physical body to the radiance of the inner being. "How at peace you are, how much forgiveness you've achieved. The body is forcing you to confront impermanence," she says. "It's all about letting go, and we need to be rehearsing."
So… shall we get on with it?
* * *
I welcome your comments and ideas. I'll be speaking about my book, Leap! What Will We Do with the Rest of our Lives? at the Tattered Cover in Denver on April 27 and at Book Passage in San Francisco on June 8. Stop by if you're in the neighborhood, or visit http://www.saradavidson.com/