On May 4, I ordered a wheelchair so I could get on a plane and join my 22-year-old daughter, Rachel, in Dublin. She was in Europe studying Spanish between college and grad school, and she'd invited me to travel with her for two weeks. This was a gift, since as a teen she hadn't liked me much and in recent years, we'd lived in different cities and hadn't been able to spend more than a few days together. With expectant joy, I booked the flights, did research, and vowed that I wouldn't give a fig about how much it would cost. This would be the grand, mother and child reunion tour, and then, on March 31, my leg started hurting. I developed a huge hematoma in my leg, and was hospitalized with my feet up in "radical elevation."
I consulted-in person or by phone–seven doctors, none of whom could say what had caused the bleeding or when the leg would heal, but it wouldn't be soon. I told each doctor that I had to get on a plane on May 4. My daughter wanted to travel with me and May 4 was the date and if I canceled, who knows when we'd both have two weeks free…"Say no more," the fifth doctor, a surgeon, said. "I have two daughters. We'll get you on that plane."
It seemed reasonable: the flight was a month away, then 3 weeks, then 2, and suddenly there's only one week left and I still can't walk more than ten minutes. I'm frightened that the long plane flights could make my condition worse, and I warn Rachel that I can't walk much but she says that won't be a problem. "I'm really looking forward to seeing you!"
Wearing industrial strength support stockings and carrying a cane, I take three flights over 18 hours, doing leg exercises in my seat. Then I'm in Dublin and there she is, holding out her arms and beaming, wearing her long, brown hair in a single braid. That night, tucked under a down comforter in the Morrison Hotel, I'm floating on clouds of gratitude. I made it! My leg's okay and I'm in Ireland, sleeping in a room with my daughter.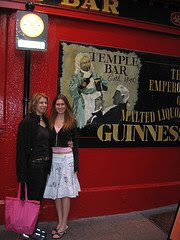 Mother and daughter reunion at Temple Bar, where the music starts.
We fall into an easy pattern-staying up late, going to pubs to hear traditional Irish music, hoping to catch some Irish dancing and drinking Guinness and Irish whiskey. Then we sleep until 11 or noon. Rest is important, Rachel says, and oh, do I agree. Each night we visit different pubs where Irish people pull their chairs into a circle for a "session," playing jigs and reels, calling and responding with their instruments. They bring flutes, fiddles, accordions, strange-looking guitars and lutes and drums and bagpipes that they squeeze with their elbows. Rachel's a pianist and studies music therapy, which is why I wanted to bring her here. People are friendly and tell us where the good sessions are and where we might find "set dances" with live music and a caller.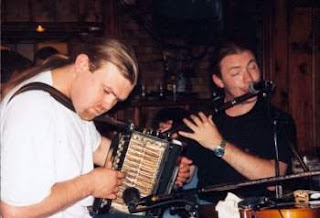 Musicians deep in a session.
By day three, though, we start to get frustrated with each other. Old patterns are being triggered and it's hard not to react. She thinks I'm oversensitive and that I baby her, and I think she's critical and I can't do anything right. Then we'll laugh or taste an exquisite cheese or see an emerald landscape that awes us, and the warmth returns.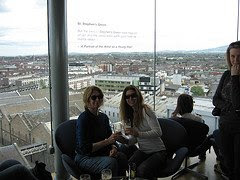 Sampling pints at the Sky Bar on top of the Guinness Factory. Best Guinness in the world – fresh at the source.
We can't seem to find Irish dancing, though. On our last night, we stop by a pub called "the Merchant" and it's empty, but there's music coming from the banquet room. We open the door and… yes! A hundred people are dancing in sets of eight, as at a square dance. Four local clubs are having a set-dance marathon, with live music and instruction and we're sucked right in. Because my leg has been getting stronger, I try to learn the basic step. It's like a polka: 1-2-3, 1-2-3. One man twirls me round and round and my leg's not ready for this. But Rachel dances the whole set with a young woman who pulls and nudges her through. (You can see her joining in on this video on YouTube. She's the tall one in white, bouncing like a pogo stick.) As the Irish say, it's good craic!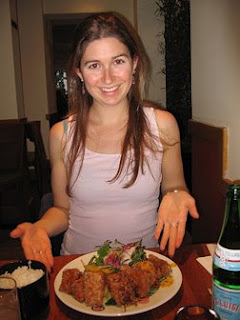 A vegetarian, Rachel is thrilled to find tofu in Ireland. (they don't do tofu in Spain)
We leave the next day on Ryan Air, a budget airline that for $25, transports us from Dublin to an obscure airport on the Northwest corner of Sicily. I step off the plane–I don't need a wheelchair now–and can smell and hear the sea. The air is balmy and welcoming, scented with orange blossoms, and there are Italians talking with musical voices and animated hand gestures. We rent a large Fiat which gives Rachel a rush. As she describes it later in her blog: "Our car had six gears and handled like a video game car. It accelerated fast, turned very easily and allowed me to drive like a crazy Italian!" She lets it rip on the Autostrada-118 miles an hour-and we make it across the island to Taormina–usually a five-hour trip–in three. But trying to find our hotel takes another 30 minutes and we're arguing about directions and which way to turn.
We finally pull into the Lido hotel and see our room, which is slightly shabby but has a terrace looking out on an expanse of aqua water and rushing waves. I'm thrilled, but Rachel looks gloomy. "What's wrong?" I ask.
She shrugs.
"Don't you like it?"
"I don't know, I'm kinda tired…."
I leave her in the room and go off to explore the place. I find a wonderful terrace with lounge chairs and shade trees, jutting out like a boat on the waves. I sit down and think, Maybe she needs privacy, maybe this is too much concentrated time together. We'd agreed, in advance, that if we needed time alone, we'd tell each other and that would be okay.
I can happily spend all day on this terrace, and she can have private time. I even find a piano she can play. The hotel has wireless, I can bring my laptop to the beach, but at the desk I learn they charge 30 Euros–$40 an hour-for the Internet. Now it's my turn to freak out. I specifically booked this hotel because it offered Internet, but no one informed me of the outrageous charges and I'm a junkie, I can't go six days without Internet. I insist on seeing the manager, we work out an arrangement, and I go back to the room.
Rachel's sitting on the terrace, facing the sea. Quietly, I ask, "Would it help if we had more time alone?"
She nods.
I open my computer to get connected.
"Could you come out here a moment?" she asks.
I walk outside. Standing, she opens her arms and hugs me.
I hold her tightly. After a moment, she pulls back. "I think it's going to be perfect here."
~ ~ ~
Stay Tuned for Part 2 – GELATO SLUTS