After a week in Dublin,
the mother and child reunion tour
moves to a town in Sicily, Taormina–built on a cliff above the aqua sea with a snow-capped volcano behind it. After settling into our room, Rachel says she wants to make no plans and have no agenda. There are hundreds of sites to explore in Sicily: more Greek temples than in Greece; Roman ruins; Arabian ports, and chains of volcanic islands with black sand beaches. But for the next week, we'll see almost none of them. We give ourselves over to il bel far niente, the beautiful doing nothing. Italians have raised this to an art form, but I get nervous when Rachel suggests I take off my watch.

Taormina–one of the most exquisite towns in the world, with snow-capped volcano.
She's been on a hurried schedule and relishes the prospect of living off the clock. We doze on "sun beds" placed on the sand, then I read and she wades. It's May and we're told the water's too cold for anyone but Germans to swim. Germans and Rachel. I keep checking on her, just as I kept an eye on both my kids when they were young, calculating how long it would take me to sprint into the water and reach them if they needed help. She walks out of the water toward me, the breeze riffling her hair, and I tell her I want to freeze this moment.
"You can," she says. "It's called, taking a picture?"
I shake my head no. A snapshot loses its power the more you look at it. I want to freeze this state-here and now, carefree, removed from time and tethers.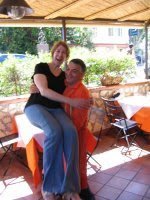 "Get your camera ready," Antonino, the owner of Castelluccia, tells my daughter. Then he swoops me up, despite the fact that I'm a head taller.
That night we find the perfect restaurant, Castelluccia, where there are 12 tables and the owner, Antonino, a small man with a big playful presence, gets to know each customer. He recommends a pasta for me because it's "made with love." It's the best pasta dish I've ever had-it transcends pasta. Atop a mound of hand-made tagliatelle are fresh-caught baby clams, tiny as a dime and so sweet I suck the juice from the shells. Then I bite into shrimp that are like candy. Small but crunchy–little explosions of flavor. And zucchini flowers are braided through the pasta along with parmigiano that coats the noodles like snow. Not a tomato on the plate, which blows my notion of Sicilian food as coarse and smothered in sauce. This pasta is an orchestral piece, where every instrument is heard while it contributes to the overarching harmony.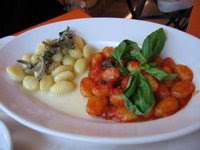 I can't decide whether to order gnocchi with butter and sage or gnocchi with fresh tomato and basil. "I bring you both," Antonino says. "Why not?"
Rachel is hypnotized by her eggplant parmigiano, which contains the usual suspects but bears no resemblance to any e.p. she's had. The wafers of eggplant are thin and crisp, the tomatoes are cooked just till wilted and there are clouds of mozzarella in the act of melting on the plate. To conclude the symphony, Antonino treats us to glasses of Moscato di Noto, grown and pressed in a town nearby.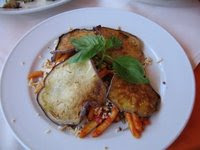 Pasta alla Norma: Castelluccia's version of the traditional Sicilian dish.
I'm happy. Very happy. But when we return to our room, I can't connect with the hotel Internet server to check email. When I ask for help, the night manager, a baboon named Carmelo, says, "No one else has complained. The problem is your computer. It's broken – you must take it to a repair shop.
I don't think so.
Go to Catania, he says. One hour by car.
There's nothing fucking wrong with my computer!
It's amazing – I've gone from bliss to bummer in seconds, and take a walk to calm down. As we lie in bed that night, I tell Rachel that moods flash thru me like quicksilver, and I try not to bash myself when they do. Instead I attempt to step back, take a breath and let it go. A man I know says this is when the Buddhist concept of impermanence is your friend. Everything changes.
Rachel says she feels better if she can figure out the reason for the mood.
"Sometimes there is no reason," I say. "But no matter how yucky you're feeling, it will not last. All you have to do is breathe and wait for it to change. Come on, impermanence!"
She laughs. "I guess that's right." And in seconds we're both laughing-silly laughing. How good it feels.
The next morning, Rachel cries, "Happy Mother's Day!" I'd forgotten–I'm screwed up from traveling–-but she remembers. Rachel remembers every holiday and birthday and loves to come up with a gift that startles you, it's so right.
We decide to spend Mother's Day on the volcano, Mt. Etna, which has white vapor rising from its top, like a cartoon of an Indian smoke signal. As we drive higher and higher, the green countryside becomes black and barren, from the lava flow. We reach a roadblock set up by police, who say we can't drive further because an eruption might occur. But we can walk through one of the craters, pocked and eerie as the moon.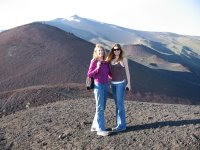 Mother's Day in the crater.
Driving down, Rachel loves taking the curves while listening to Italian radio music. She's in a great mood, and I figure: it's now or never. I start the conversation I've been dreading and wanting to have. She's read Leap! and to my surprise, said she loved it. I'm surprised because I wrote about how miserable I was when she turned against me during her teenage years. On this Mother's Day, as we speed down the volcano, I tell her I'd like to hear what it felt like from her side. "How was it to be in your shoes? Why did you dislike me so?"
She takes a breath, then tells me why, and it's not a nice picture. I can sense her becoming agitated as she calls up memories. It's a bitch for me too, trying to listen and not react, not defend myself or give my side of the story.
As it happens, I've been reading Anne LaMott's book, Grace, Eventually, in which she describes a time when her teenage son provokes her to such rage that she slaps him in the face. If LaMott, who had the baby on her own and adores this child, who's a member of Green Peace and a prayer leader and volunteer at church, could be so provoked, it assures me that the mother-child struggle-particularly when the young person needs to break free–is both normal and one of the most perilous transitions we undergo.
I tell Rachel that I tried my best. I apologize for my shortcomings–and they were many–and ask if she'll forgive me. She says she wants to, but the feelings are still there.
"Wanting to," I reply, "is enough."
~ ~ ~
The week of the beautiful doing nothing passes quickly and we spend our last day in Florence, from where I'll fly home and Rachel will make her way to Sienna to learn Italian. After touring the Uffizi galleries, we have supper, then stop in a gelato bar. (There are three on every block.) This bar has the most seductive presentation: each flavored gelato is whipped up into a frothy peak, so we're staring at a veritable range of gelato mountains.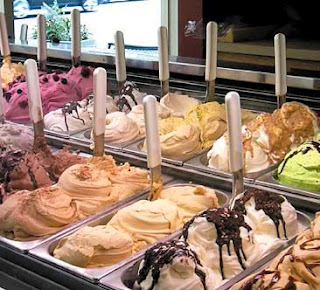 Gelato Bar Number 1
She orders Nutella, because while in Europe she's gone crazy for the chocolate hazelnut spread. I've never tried the Nutella spread and don't care for the gelato but she insists it's not a good representation. So we embark on a pilgrimage: she's searching for the perfect Nutella, and I want to find the perfect flavor-one that tops the chocolate mousse gelato I ate in Taormina.
We stop in every bar and ask to sample flavors: mango, crème caramel, frutti di bosco, sacher torte. We try the Nutella in every shop and it's never good enough. Sometimes we buy a cone but mostly, sadly, we move on. At one bar, the Italian woman server says, "What are you doing, eh? You just go around and try?"
"When we like something, we buy," Rachel says, a little defensive.
"Have a good night," the server says frostily.
But we're not deterred. Spotting the next bar, Rachel laughs. "We're gelato sluts." The server here is from Albania and points to a placard that says: "One sample per customer." Boo. I try lemon granita, which I like, but it comes in a cup and you drink it. I shake my head. "Try the lemon gelato," he says, looking both ways to make sure no one will spot him giving me a second sample.
Eureka! This lemon gelato is perfect: tart but not too sour, sweet but not too sugary, and creamy as the custard in an eclair. Warily, Rachel tastes the Nutella, then gives me high five. Satisfaction! The gelato sluts can now retire.
"I pronounce this trip a success," I say, as I turn out the lamp in our hotel room.
Rachel nods. "I had a great mother and daughter reunion." We begin the drift toward sleep.