I'm sitting in the president's office at Fox Broadcasting to pitch a drama series inspired by Leap! There are four of us trying to sell this project: Goldie Hawn, Marta Kauffman, Nancy Josephson and me.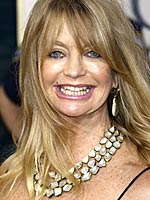 "What good is jewelry sitting in the box?"
Goldie, who will act in and produce the series, draws all eyes. True to name, she glows, she sparkles, and makes you want to smile. She's wearing a strapless, rose-colored summer dress that wafts just below her knees, and a necklace with diamonds so large I think at first they're fake. The necklace, made of uncut diamonds as big as nickels, is an antique from the Raj period which Goldie bought in India. "I've decided to wear my jewelry," she'd said before the pitch. "What's the point of it sitting in the box?"
Amen. I'm the oldest of the four women, but all of us have gone through some version of what I call the Narrows. Each is dressed according to character. Nancy Josephson, the agent who conceived of turning Leap! into a TV show and brought us all together, wears Prada from shoulders to toes. Marta Kauffman, the co-creator and exec producer of the monster hit, "Friends," wears a vintage dress and sneakers with no laces. And me? I'm wearing my best-fitting long black slacks from ABS, and a white t-shirt from Theory. But here's the embarrassing part: because I have leg "issues," I've got black Hush Puppies on my feet. People pretend not to notice.
Marta lays out the premise for the show that she, Goldie and I have cooked up. It will be an ensemble about two generations: five people in their 50s, who were friends in college and are trying to figure out what they'll do in the next part of life; and five of their children, who're in their 20s and trying to figure out what to do with their entire lives. Goldie talks about why she's passionate about this show, describing how she went through an agonizing empty nest experience, and how her three kids are going through major transitions in their 20s.
The president of Fox, Kevin Reilly, says it's a great pitch, and he wants to make a bid. He's buying it in the room. I'm in shock. When I last tried pitching shows seven years ago, I got cold looks and "We'll get back to you."
At NBC a few hours later, we make another sale in the room. The next morning, Peter Roth, the smart and witty president of Warner Brothers, which will produce and finance the show, accompanies us to Goldie's house for a meeting at 9 a.m. with ABC. Steve McPherson, the ABC president, had said that because of his schedule, he'd have to do the meeting in the morning near his house on the West Side. As it happens, Goldie lives nearby and offered her home.
She's not wearing the diamonds today–which disappoints the other three of us who've been fantasizing all night about a shopping trip to India. But Goldie's home is warm and lush, with brilliant-colored flowers, Tiffany lamps and gorgeous chintz. As we settle into couches, Steve McPherson says, "Goldie Hawn, Marta Kauffman… I say, `Yes.' What else do we have to talk about?"
Um, do you want to hear the pitch?
Sure, he says, and after we've finished, he turns the tables on us. He says he knows we're going to all the networks and "You'll have the pick of the litter. So let me tell you why ABC is the best place for this show."
By noon the following day, the deal is sealed with ABC. Peter Roth calls to give me the news. "You wrote about the narrows?" he says. "This is the wides. I couldn't be happier." Usually, if a network likes a pitch, they order a script, and they commission 50 or 60 each season. When the scripts come in, they pick the ones they feel are strongest and shoot about 5 or 6. After watching the finished pilots, they decide which they want and need on the air. BUT, in this case, they're committing to shoot our pilot script, so we know we have a place in the final round.
NOW… Marta and I have to write it, with Goldie's input. If it goes on the air, which is always a long shot, I'll be the oldest female executive producer working in TV.
How sweet it is — the irony. I left Hollywood in 2002 because no network would hire me and my agent fired me. I wrote a book describing ageism in Hollywood, which we're not supposed to talk about, but I had nothing to lose. And because of the book—and the women who responded to it—I may be coming back. Which I never dreamed of, and which is the message of Leap! itself.
IN MEMORIAM

Joel Siegel – owned a sparkle all his own. Shine on!
Life has a way of giving you the bitter with the sweet. I've just learned that my friend, Joel Siegel, whom I knew at Pasteur Junior High in L.A., and who was for 30 years the film critic for "Good Morning, America," passed away at 64 after a ten-year bout with colon cancer. Joel had been diagnosed shortly after learning his wife was pregnant with their only child, Dylan, now 9. Joel wrote a funny book, "Lessons for Dylan," lightly packed with all the things he wanted his son to know. I miss Joel terribly. He was warm, kind and generous and lots of fun; the world is dimmer without him. Joel, I raise a glass to you.
* * *If you have comments or ideas, please comment below.