Published January 22, 2008 by Sara Davidson
On Christmas Eve,
Joan Borysenko
and I re-created a dish that her mother and my grandmother used to make. In our memories, it tasted like heaven, but we hadn't eaten it in more than 30 years and were filled with nostalgic longing. Her mother in Boston called it a "veal pocket," and my grandmother in Los Angeles called it "stuffed breast of veal." The recipe had been carried here from the shtetls — Jewish villages in Eastern Europe — and used ingredients that other folks discarded: the ribs of the calf and stale bread.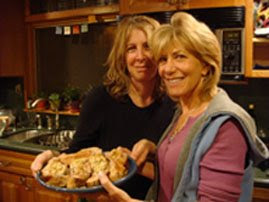 Joan and I with shtetl food.
We hatched our plan one night while we were talking about the ancestral dishes we grew up with – our comfort food – that our children hadn't known. Sure, they'd eaten matzo ball soup, brisket and potato pancakes, and my daughter used to love chopped liver until she became a vegetarian. But they'd never eaten my grandmother's stuffed cabbage, kishke, knishes or any kind of strudel. Would these foods soon become the snows of yesteryear?
We decided to make a veal pocket for the holidays. But here was the rub: Joan's son, Andrei, and his wife, Nadia, were coming to visit. Nadia, an artist who runs a green gallery in Ukiah, CA, doesn't eat red meat, and Andrei told me he doesn't use a microwave because it sucks the nutrients out of food. They'd stopped using wireless Internet in their home because they didn't want radio waves constantly reaching out like tendrils through their rooms.
Joan and I felt embarrassed and guilty about making a veal dish. But there was no way around it. You can't buy vegetarian fake veal, to my knowledge. So we ordered the veal breast from Whole Foods, assured that the animal would have ranged free and never been given hormones or antibiotics. And we cooked it with love. At the last moment, we decided to present it as "shtetl food," and not mention the v-word. When questioned, we said it was the ribs of the calf, which was true.
This was all probably unnecessary. We should have said: We know it doesn't feel humane or ecologically correct to eat veal, but this is an homage to our beloved foremothers and on this one night, we'd like to make an exception. I'm sure Andrei and Nadia would have understood.
As an alternative food choice, Joan was making stuffed shrimp, which she'd served her kids at every Christmas time. Shrimp, of course, was forbidden in the kitchens of our grandmothers, who were raised kosher, but by the time we came of age, Jews were serving shrimp at their weddings.
But here was the problem with the shrimp dish. The two staples in Joan's mother's kitchen were butter and Ritz crackers. She used Ritz crackers in all her stuffings and in a stupefying array of other dishes. The crackers were filler – a precursor of Hamburger Helper – and added salty, sweet and buttery flavors all at once.
BUT, today, a Ritz cracker is looked on as poison, especially by our organically-conscious kids. (My daughter always carries cloth bags in her car so she can refuse the paper or plastic offered in stores.) A Ritz cracker is loaded, like a fatal dart, with trans fat, partially hydrogenated soybean oil, sugar and high fructose corn syrup. Fortunately, Joan found "Golden round crackers" in Whole Foods, with a picture of what looks exactly like a Ritz cracker on the box. The healthy version contains organic palm oil. Um, is that better?
Back to the veal. When I showed up at Whole Foods the day before Christmas, the butcher brought out a veal breast in which the bones had been removed and a giant flap, not a pocket, had been cut, open on the top and bottom. "You roll it," he said.
"No, we don't roll it," I said. "We stuff it and sew the top closed. It should look like a pita pocket."
"We never done nothin' like that before," he said. Grumpily, he disappeared behind swinging doors, then returned with a new cut, a gorgeous, prime, pale-pink natural veal breast with a perfect pita pocket. I was ecstatic.
My grandmother, for her stuffing, used not Ritz crackers but stale challa, or egg bread. So I bought a gorgeous fresh challa and spread the pieces on my countertops the night before, so they'd get hard and stale by morning. Then, as my grandmother did, I soaked them in hot water till soft and soggy. I squeezed them into balls and fried them with onions, celery and lots of butter. Then you add eggs, fresh parsley, salt and pepper and it's divine! I've always wondered, though, why we had to dry out the bread and then rehydrate it. Some day, I'll try making the stuffing with fresh bread, but on this occasion, I didn't want to veer one inch from my grandmother's protocol.
Bearing the raw stuffing and meat, I shlepped up to Joan's house on the side of a mountain. We packed the stuffing in the veal pocket and Joan, who used to teach at Harvard Med School, sutured it closed with an upholstery needle. We roasted it till golden brown, then her son carved it. Each slice had a ring of veal around the luscious, cake-like stuffing, with natural veal juices permeating it all.
As Joan and I tasted our first bites in 30 years, I asked, "Is it as good as you remember?"
She was silent, then smiled. "Better."
The shrimp was great too.
~ ~ ~
For those who dare, here's the recipe. The stuffing is also terrific with turkey, chicken, tofurkey or anything you can imagine.
GRANDMA RAE'S STUFFED BREAST OF VEAL
Before doing anything, see if you can find a butcher who'll get you a breast of veal and cut a pocket in it. We tried six in a 50-mile radius, and only one was willing. If you get lucky, a four-pound breast without bones will serve 6-8 people.
Buy a large loaf of challa, sliced, and spread it around the kitchen the night before so it dries out. The next morning, saute two sliced onions and 5 stalks of diced celery in one cube of butter till the onions are silver. Fill a large bowl with hot water; soak the bread slices until soft, then squeeze out the water so you end up with soggy balls. Drop balls into the pan with onions and keep turning about 10 minutes. Place in a chopping bowl, add 2 eggs, salt, pepper and fresh parsley. Mix and chop well.
Fill the veal pocket and sew closed with thread. (or use clamps) Put in a roaster and cook at 350 for about an hour and a half. Baste and check to see when veal is cooked – juices should run clear. Then bake uncovered 5 minutes to brown. Slice across the breast and serve.
~ ~ ~
I welcome your comments. Please reply to website-feedback@saradavidson.com