Published June 13, 2008 by Sara Davidson
The day after Obama claimed the nomination, a German newspaper ran a picture of the White House on its front page with the headline, "Uncle Barack's Cabin."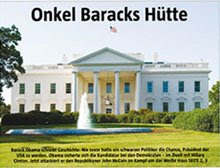 The cleverness! The outrageousness! The irony delighted me. When "Uncle Tom's Cabin" by Harriet Beecher Stowe was published in 1852, it not only became the bestselling novel of the century but was an urgent moral outcry. It opened people's eyes to the horrors of slavery and hastened the Civil War.
Now, the next first lady may be a descendant of slaves.
But not everyone saw the humor in Die Tageszeitung's headline. Many bristled that a racial slur was being applied to Obama. "Uncle Tom," they pointed out, had become an epithet for Negroes who abased themselves to placate their white masters.
But how did this slur come about? A few years ago, I re-read "Uncle Tom's Cabin" and was mystified that "Uncle Tom" had become a synonym for black self loathing. In the novel, Tom is a Christ-like figure, noble, humble and generous, who's beloved by whites and blacks alike. He sacrifices his own life to prevent other slaves from suffering.
When Tom learns that his master plans to sell him to a slave trader to pay off the master's debts, Tom refuses to run away, knowing that if he does, other slaves will be torn apart from their wives and children and sold down the river.
While Tom is being transported south on a river boat, he risks his life to save a white girl, Little Eva, from drowning. Later, when sold to a vicious plantation owner, Simon Legree, Tom refuses to whip other slaves, gives them comfort and encourages them to escape. When Tom refuses to tell Legree where the runaways have gone, Legree has Tom whipped and flayed to death. As he dies, Tom forgives his torturers. His saintliness and humanness inspire other southerners to free their slaves.
If you haven't read the book or don't remember it, I recommend you check it out. I listened to it on tape while driving through North Carolina, enjoyed it deeply, and was so moved by the love between Tom and the dying Little Eva that I found myself weeping and losing my way on the road. It's time, I think, to resurrect the true character of Uncle Tom and bury the stereotype. And take pride that Obama is seeking to make the White House his "cabin."
~ ~ ~
For something completely different…
Sheila Weller's book, "Girls Like Us," tells the intimate stories of the three most important female song writers of our time: Carol King, Joni Mitchell and Carly Simon. The book is filled with juicy nuggets I hadn't known about, and it's riveting to read how their lives and loves found expression in their music.
~ ~ ~
I welcome your comments. Please reply to website-feedback@saradavidson.com
~ ~ ~
Reigniting one's passion for politics and music are subjects I address in "Leap!" — now out in paperback. I would so appreciate your HELP in spreading the word. Tell friends it's ten bucks now and if you buy it, you get the free Leap! workbook. For more information, please visit http://www.saradavidson.com/.
~ ~ ~
Sara Davidson, a journalist, novelist and screenwriter, began chronicling the boomer generation in the Sixties with her phenomenal best seller, "Loose Change." The author of five other best-selling books, she's written for the New York Times Magazine, Esquire, Harper's, O, the Oprah Magazine, the L.A. Times and Rolling Stone, and for 25 years she's written dramas for television. To read an excerpt of her latest book, "Leap! What Will We Do with the Rest of our Lives?" visit http://www.saradavidson.com/.