You'd think the car was made of gold. It was a '98 Honda Civic that belonged to my 94-year-old mother who'd driven it only 37,000 miles. It turned out to be the most valuable material possession she owned.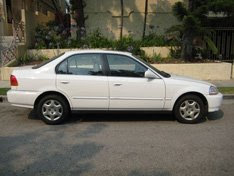 The hot car.
My sister, Terry, and I had flown to L.A. to close down our mother's life there. After moving her to Hawaii to a home for the memory impaired, we realized she would never return to the condo where she'd lived for 38 years. Terry and I had cleared two weeks from our schedules to sell her car, her condo and everything in it.
I checked the blue book value of the Honda, thinking we'd be lucky to get a couple thousand, and was surprised to see it valued at $6800. I wanted to list it at $6500, but Terry said she'd had trouble selling used cars, whatever the blue book said, and we wanted a quick sale. We compromised at $5900.
Within minutes, the phone rang and barely stopped all day. The first thing people asked was, "Has it been in an accident?" No, we said. Everyone begged to come with cash and take it sight unseen. Clearly we'd priced it too low. Because of high gas prices, we surmised, everyone wants a small car that gets good mileage, and this car had gone only 37,000 miles! One man wanted it for his handicapped sister who was trying to live independently. A 16-year-old girl had saved all her birthday and bat mitzvah money and job earnings so she could buy her first car, and this had to be it. One woman asked, "Are you Christian? We are."
No, we're Jews.
"Oh, we love Jews," she said. "We've been praying for exactly this car, and we'll keep praying that it's meant for us."
I wrote down the names and numbers of the first 20 callers and then let the answering machine take over.
What to do? Should we cancel the ad and list it higher? Hold a bidding war? Have a lottery? We didn't have the stomach or the time for a war. Terry said, "Someone will be blessed. Haven't you ever gotten a good deal that made the difference in whether you could buy something or not?" Yes, I thought. The house I live in now. So we decided to sell the Honda to the first person who gave us full price in cash. And we would call people in the order that they'd called us.
On my list, the first name was the Christian lady. She was overjoyed, and said she and her husband would leave Palo Alto immediately and drive the 7 hours to L.A. so they could pay for the car by our 10 a.m. deadline.
Then I called the others, telling them how we were proceeding. A man with a Middle Eastern accent said, "You told me I was the first caller."
I consulted the list. "No, you're number three. I'll call you if the first two don't take it."
The next morning I awoke with a dark realization: the man had indeed been the first caller. For some reason, I'd written two names above his. Why had I done that, and why hadn't I remembered he'd been first? Had the Christian lady's prayers affected my brain? She was already on her way from Palo Alto, and we couldn't retract the car now.
She arrived shortly afterward, creeping like a nun. Dressed modestly, she wore a veil over her hair. We told her about my mistake and she said, "Do you want to sell the car to the other man…?"
No, I said, but it felt unfair.
She and her husband slipped into the front seat for a test drive, but first they prayed. "Thank you, God, for bringing us this car. We pray that the other man will receive one just as good or better." Amen, I thought. Moments later, they counted out the cash and took the car to a shop to check the tires for the drive back north.
An hour later, she called in a most un-nun like tizzy. "The mechanic said the rear paint doesn't match the rest of the body. The car HAS been in an accident."
"Not to my knowledge," Terry said. "If it was, it was minimal. We've never had one day's problem with that car." We offered to give back her money.
The lady prayed some more, called back and said she'd keep it.
So went the Honda.
This left Terry and I to the tedious and emotionally wrenching job of emptying out every room, every drawer. I wanted to be ruthless and get rid of everything except the pieces family members wanted. The rule I'd learned from Joan Didion was, at times like this, you should touch an object only once. Make a decision and move on. But Terry wanted to make a yes, no and maybe pile. The compromise was: I kept what I thought that I or my kids would want, and she made yes, no and maybe piles. At night, after we'd quit working, she'd go through her maybe pile with more time to reflect.
We started with the hardest thing – the papers. Going through our mother's file cabinets, we were surprised to find a folder marked, "Car accident." Inside, we found an insurance claim for a minor accident, a fender bender. The report stated it had been "caused by Alice Davidson," during the year we'd tried to get her to stop driving.
We looked at each other and burst out laughing.
The Honda, it turned out, was the only thing our mom owned that anyone else desired. We put her condo up for sale, but at this writing, only one bank in L.A. is making loans and buyers have disappeared like low-priced gas.
We called a woman who conducts estate sales to see if she could sell the contents of the condo. Our mother had collected crystal, silver, china, and antique tables, desks, chairs and a hutch, but after viewing the lot, the woman said, "It's bubbie (Jewish grandma) furniture. No one wants it. It's not worth my time to handle." There was one object in the den, however, that she said, "Everyone will want." I went in and tried to guess, but everything looked like junk.
"That lamp," she said, pointing to a cheap lamp from the 1950s. "That's what's hot now – mid twentieth century."
Never mind the Waterford goblets, the Spode and Royal Doulton. They wanted a lamp that probably cost $10. We listed some of the items on Craig's List and got no takers. We ended up selling most of the furniture to a second-hand dealer for "bubkis," or beans, and donating everything else to our mother's charities.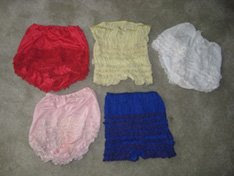 Square dance panties – nothing plain.
We had fun with the clothes, though. Our mother had three walk-in closets stuffed with the most gaudy, frilly, outrageous styles. Her taste was: nothing plain. She liked loud colors, garish prints, and big images on everything: animals, pirates, jesters, sequins, rhinestones, balls and coins dangling from hems. Leopards and zebras perched on belts. We'd hold up a blouse covered with ric-rac cactus and mariachi players with little sombreros, and crack up. "How could she buy this, let alone wear it?"
She loved square dancing and had a rack of dance outfits with stiff petticoats, short skirts and lace panties to go under them so that when she twirled and the skirt flew up, people would see the matching chartreuse ruffled panties. Our two daughters grabbed the stuff to wear as costumes.
We finished the job on schedule, utterly spent. In the end, 94 years of accumulation, including the Honda, went for a total of about $10,000. Flying home, I resolved that as soon as I had time, I'd go through all my rooms and shed shed shed. Because some day, my kids will be going through my papers, fishing through my shoes and fleece pullovers in every color and Chinese hair barrettes, throwing most everything out. They'll surely laugh. "I can't believe she bought this. What was she thinking?"
~ ~ ~
Shedding the past and finding passion in the years ahead are subjects I address in "Leap! What Will We Do with the Rest of our Lives?" — now out in paperback.
To purchase Leap!, click here.