Jill Eikenberry and Michael Tucker were standing in the wings on opposite sides of a theater in New York, waiting to go onstage in a musical revival of "Enter Laughing." As the overture began, the former stars of "L.A. Law" caught each other's eye.
"Look at us!" Jill was thinking.
"We're doing a musical!" Mike was thinking.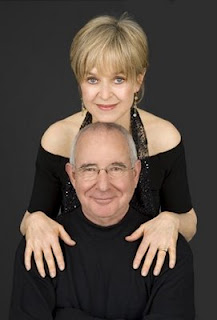 Mike Tucker and Jill Eikenberry today.
I was sitting in the audience, because I would go see Jill and Mike perform in anything. We'd become friends in the '80s when we were all working in TV, but we're not now and we've passed age 60. Before "Enter Laughing," Jill hadn't performed in a N.Y. musical since 1981, and Michael had always wanted to sing and dance on stage but "never had the guts to do it."
I had come to N.Y. for another purpose — to see "South Pacific." I knew the songs by heart because the show was my mother's favorite, and the cast album played in our home like a sound track to my childhood. Friends had told me the revival at Lincoln Center was the most spectacular musical they'd ever witnessed – "worth a trip to New York."
And it was. The songs are thrilling, the actors steal your heart, and you feel you're seeing one of the most exalted moments in American musical theater.
"South Pacific" – Some enchanted evening indeed.
After "South Pacific," I was afraid "Enter Laughing" at the tiny York Theater would be a come down, but I have to tell you, I laughed more than I've laughed in ages and felt intimately involved in the show. The play, written by Joseph Stein (who's 96 and still revising it!) is infectiously funny. It's about a goofy but endearing young man with no talent who's trying to make it as an actor in the 1930s. The cast, who range from their 20s to their 80s, are so committed to having fun that you can't help but be swept along with them. On top of this, I was savoring the joy that Mike and Jill feel at being "back on the boards," Jill says, "and doing it together!"
When "L.A. Law" folded in '94, the Tuckerberries – the collective name for Mike and Jill who've been together 35 years — were in their late 40s. "We had grabbed the brass ring," Mike says. "L.A. Law was everything you could possibly aspire to: wildly popular, highly respected. Great scripts, wonderful company. It won all the prizes. There was no chance we would ever do something like that again." At the same time, however, that the show was taking off, Jill was diagnosed with breast cancer. She survived, but says, "That gave us perspective: mortality and immortality in the same moment."
When the show closed, the parts came less frequently and Jill and Mike didn't want to work on separate TV shows. "You would be leading different lives. You'd never see each other," Mike says. "We wanted to hang together — that was our priority."
They moved to Northern California, performed in resident theaters, Mike wrote a book, they produced a documentary and enjoyed the good life in Marin County. Then, three years ago, Jill was cast in a play by the Manhattan Theater Company and the Tuckerberries decamped to New York for the run. Jill found the work exhilarating, and one day, after walking home through Central Park and watching spring arrive, she went to Mike and said, "This is what we should be doing – plays in New York."
So they moved. They'd started their careers in New York theater and now they were coming home. But Jill was nervous: after years in the woodsy natural beauty of Marin County, could they live in a concrete city? Would their careers take off again? For a while they had little action, but then came the call to do "Enter Laughing." It was a hit from the first night and the critics raved. "Hilarious! Smashing!… Had the audience howling," said the N.Y. Times.
The run has been extended to October 26,and may move to a different venue. New York is proving more hospitable to older actors than Hollywood. "The only problem when you get old is that you have to play 8 shows a week," Jill says. They both take naps. Every night when Jill and Mike take their bows, walking out on stage holding hands, Jill says, "We can't stop thinking, How great is this! It's so much fun, and I'm very proud that we're doing this together and making that statement as well."
What is the statement? I ask.
"Our priority," she says, "is each other."
~ ~ ~
~ ~ ~
Transitions and reinventing yourself without fear are subjects I address in "Leap! What Will We Do with the Rest of our Lives?" — now out in paperback.
~ ~ ~
CLICK HERE to buy Leap! now.