Part 3 of a series about a peace trip to Afgfhanistan. To see all posts in chronological order, Click Here.
On our second night in Kabul, there's a dinner given in our honor by Nooria and Asad Farhad, an Afghan couple whom Jodie Evans, a Code Pink founder, had met in L.A. The dinner proves to be a coming out party for our group. Asad is a former deputy in the Karzai government, and the guests are a glittering cast of ministers, journalists, generals, tribal leaders, professors and Mahmoud Karzai, the older brother of the President. By the end of the evening our dance card is full — with invitations for dinner on every night of our stay.
Nooria, who's warm and emotive, dresses with dramatic flair and doesn't wear a head covering. She tells us how she and Asad left Kabul in 1976 for the U.S. so he could study on a Fullbright grant and didn't return until the Taliban fell. They've rented a three-story home in a walled compound that has a large garden and staff, including a cook and driver. But it's not considered a "good neighborhood." Directly across the dirt road is a camp of Afghan refugees who fled to Pakistan during Taliban rule and returned with no place to live. They're squatting in ragged tents on vacant land with no water or electricity. The men make wooden bird cages and the women sew quilts, which Nooria sells through her import business in California.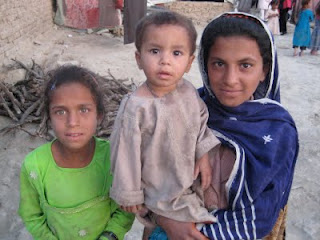 Before the party begins, she leads us across the dirt to the camp where we're surrounded by children, many of whom have those startling green eyes that give them an eerie beauty.
Asad says the kids don't go to school but scavenge in garbage dumps for fuel, earning maybe a dollar a day. He and Nooria are offering to pay the families the amount the children could earn if they'll send them to school. "We can't get the families out of the tents now," Asad says, "but if the kids learn to read and write, we can get them out of the tents in ten years."
Medea protests that this is "a Band-Aid. They need a national program."
"It's one step," Asad says. "If we leave it to the functionaries, it will not happen."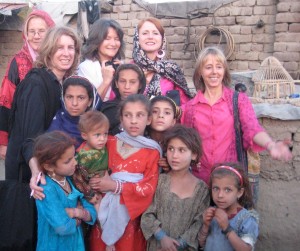 Back at their home, musicians begin to play traditional Afghan songs and guests are arriving. Everyone on our team is wearing Afghan clothes we've bought on the fly — long colored tunics and scarves — but the Afghan men are wearing elegant Western suits. They keep checking their cell phones and we keep taking notes, shooting still pictures and videos and making digital voice recordings.
One of the guests, Anand Gopal of the Wall Street Journal, says the party is the equivalent of "hanging out with Jeb Bush during the Bush years." He's not surprised that we're hearing people say they want U.S. troops to stay. He says there are two Afghanistans: Kabul, with 5 million people, and the provinces with 25 million. In Kabul, people enjoy more freedom than they did under the Taliban and want the U.S. here as a buffer. But in the south, where shooting and bombing are destroying homes and killing civilians, they want the troops out. "Under the Taliban, they had order and peace," Anand says.
A woman reporter cuts in, "It was the peace of the oppressed."
Asad points out that the Taliban have roots in every village and have set up a de facto government. "They collect taxes and settle disputes on the spot. There's no other justice. People may not like the verdicts but at least things get resolved."
A group of men are sitting in a circle with Mahmoud Karzai, dressed all in white with a gray vest and silver hair. He talks about how life has improved since his brother took office, but other men complain bitterly of corruption. Daoud Yaar, economic adviser to the President, says, "We live in a society where you can trust nobody."
Asad tells them about a proposal he submitted to the government to create local marble works. "If the government builds a factory, it won't work," he says. "But if locals build it, they'll have something to protect." He says the country has one of the largest marble and granite deposits in the world and it's exquisite – equal to Italian marble. "But we make no marble products. Our marble is blasted out, which destroys 90% of it, then smuggled to Pakistan where it's processed and sent back here." He's proposing that local workers be trained to extract and process the marble in factories they control.
"What response did you receive?" a friend asks.
"None."
The men look away.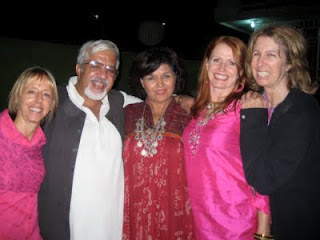 Medea, Asad and Nooria Farhad, Jodie, Sara
On the bus driving home, I'm exhausted and on overload. Everything is blurring together — an endless stream of talking heads. Every opinion and argument we hear contains the seeds of a counter argument, and none is provable. Paul, our young stud with gelled hair and black rectangular glasses, lies slumped in his seat. "I'm like a sponge that's totally full," he says. Sara Nichols looks glassy eyed. "I came here for clarity but things are getting more confusing by the hour."
TO BE CONTINUED.
Please Leave a Comment: What would be the most effective steps the U.S. could take in Afghanistan?