Part 4 of a series about a peace trip to Afgfhanistan. To see all posts in chronological order, Click Here.
We're invited to lunch by Dan Allison, who runs an NGO, Hope International. Women spread a cloth on the floor and carry in platters of rice, lamb, Afghan flat bread, spinach that's been cooked to the consistency of mush, raw vegetables and mounds of grapes. We've been served the same meal at every lunch and dinner, and have been religious about not eating anything raw and drinking only bottled water. But Dan tells us, "We've trained our cooks to wash everything carefully. You can eat it all and won't have problems." Wonderful, I think, savoring a raw carrot and some grapes.
A half hour later, I do have a problem and others will come down with digestive troubles later. Anand Gopal of the Wall Street Journal tells us there's a higher percentage of fecal matter in the air here than any other place on earth. Kabul has no sewer system, waste runs in ditches along every road and farmers use human excrement as fertilizer.
The next day, I'm too sick to get on the bus but the team returns at noon to our guest house to meet with Norine MacDonald, a Canadian who's worked in the south for years. Norine is 39, blonde and gutsy. She carries a gun and looks like a model in Kabul, but in the south she dresses like an Afghan boy because women aren't seen on the street.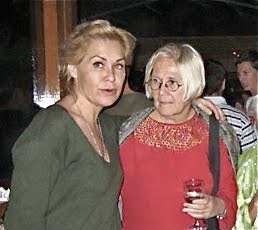 Norin in Kabul with Ann Wright, a former army colonel
Norine directs the Mercator Fund, which works with farmers in the south who, she says, "are all in business with the Taliban." Mercator is encouraging them to grow poppies for medicine. "You can't get morphine in this country or in Africa. The World Health Organization calls it a global pain crisis," Norine says. "It's a simple process to convert raw opium to morphine. The farmers could start with the harvest next spring. It will make them legitimate and solve a world problem."
Her group wants to intervene with young men before they're recruited by the Taliban. She says there's a bulge in the population of males between 15 and 25. "They're not sexually active because Islam forbids sex before marriage, and they don't have money for a wedding. They have no sex, no job, and they're angry."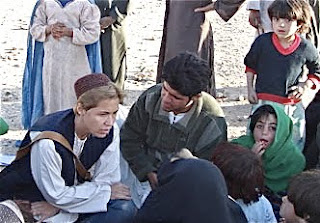 Norine in south, dressed as a boy
Imagine, she says, if in the U.S., all the males between 15 and 25 had no sex and no job. "What kind of violence and chaos might erupt?" Her organization wants to give the young men cash to get married, an allowance to build their own place—"a love shack"—and job training. "It's harder to recruit a married man as a suicide bomber when he has a decent job and a home."
Jodie nods, saying she found the same was true with gang members she worked with in L.A.
Norine says she's a fan of Gen. Stanley McChrystal and is happy to see "more troops brought in with his approach."
There's a burst of traffic noise outside and I ask Medea Benjamin, a Code Pink founder, if she can hear Norine. "Yes, but I don't like what I'm hearing," Medea says.
I move my chair closer. Norine says she likes the idea of taking soldiers out of their vehicles and putting them on the street.
"I'm strongly against that," Medea says. "I think they should be less visible—stay in their compounds."
"When soldiers walk around on the streets, people have a different experience of them," Norine says.
"But they attract Taliban shooting and violence…"
"From my point of view, living here, I'd like to see the military deliver aid," Norine says. "There are two huge camps of displaced Afghan refugees and they're starving–10,000 families. No one's delivered any food aid in years. If the military wants to, I'm all for it."
"Why not have the humanitarian community do that?" Medea asks.
"They can't get there because of the security problem," Norine says. "What do you think people in those camps would feel about the military delivering food aid?"
"Grateful," Jodie Evans, our trip organizer, says.
Norine adds, "I'd like to see the troops go into Pakistan and rout out the insurgents." There's silence at the table. (After the meeting, Ann would say, "Norine lives here and that's reality. We represent the ideal, and somebody has to hold that.")
Norine continues, "Here's another controversial proposal but you'll like it better: Give all the aid and development money to Afghan women. It will empower them. The men will have to go to them if they want a new well."
Jodie says, "That's what we fight for, but we want to do it without troops."
"You need both," Norine says.
"If you had to choose between troops and development?" Jodie asks.
"Had to choose? I'd put money on development."
"Yay!" Jodie says.
This kind of questioning divides our group. Some are upset that the Code Pink leaders are leading people to get the answers they want instead of listening without bias. I spend the evening with two who feel this way, Rabia Roberts and Dr. Laurie Hamilton. The rest of the team are going to dinner at the home of the deputy minister of defense. I'm running a fever, Rabia is staying in to conserve her energy and Laurie has made a different calculation. She and her husband recently adopted two brothers, 11 and 13, who grew up in foster care. Laurie works as a gynecologist in Coos Bay, Oregon, and her husband cares for the boys. "They need me to come home," Laurie says, "so I'm not taking any chances by going out at night. It's not worth it."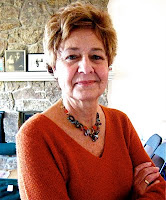 Rabia Roberts
Rabia trained with Marin Luther King in the '60s and has conducted citizen diplomacy in Iraq and Syria. She's been uncomfortable with the Code Pink Leaders from the first day. "They had their decision made before coming here and are drumming for evidence to support it. That's not peace making."
"It's aggressive," Laurie says. "I'm really disappointed. My approach is: you come with questions, not answers. They make everyone wrong who doesn't agree with them."
"This is peace movement fundamentalism," Rabia says.
When told of this comment, Jodie said, "I don't think I was leading anyone. I wanted to come home and say, "We should put more money in development," and if nobody agrees with that, I need to know. But every time we asked, what if the money went into development instead of troops, people wanted development."
TO BE CONTINUED.
Please Leave a Comment: What do you think of Norine's ideas, and our team's responses?