Part 6 of a series about a peace trip to Afgfhanistan. To see all posts in chronological order, Click Here.
On our last day, the final voice we hear is that of a member of Parliament from the south, Roshanak Wardak, who expresses the opposite position from what we've been hearing in Kabul. She just moved to a house in Kabul because it's no longer safe to commute to her village. The concrete slab house looks as if it was erected yesterday, surrounded by rocks, rubble and a security wall with barbed wire.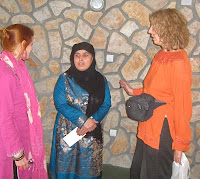 Jodie, Sara with Roshanak
Roshanak is small and graceful, dressed in turquoise with a black head scarf. "I'm sorry for Americans, they waste their lives here," she says. In the four years she's been in Parliament, "everything in the south has deteriorated. America didn't help us. Our country can't help us. If you stand in the market and kill ten people, nobody will catch you. There's no justice, no security."
She says special forces killed a father and son working in their fields. When she asked the commander why, he said the son had relations with the Taliban. "I have relations with the Taliban," she says. "We are living with them. When any person is killed, I have to go for the condolence. They ask why Americans did this killing and nobody knows. Now people are against Americans and against our government."
Roshanak is a gynecologist who set up practice in Wardak in '96. When the new Afghan constitution was written in '04, it required that 25 percent of the seats in Parliament be filled by women. Roshanak's neighbors urged her to run but she resisted. "I hate politics, it's a dangerous game, full of fraud," she says. But her constituents prevailed, "and I won, even though I did not spend one dollar."
With the video camera rolling, Jodie Evans, who organized our trip, asks Roshanak what she wants to tell President Obama. "Withdraw all troops," Roshanak says, then proposes a three part solution to the war. "First, the U.S. should negotiate with the Taliban and ask them to participate in government. If you think it's impossible to talk with Talbian—that's not true." Second, she says, "Everyone knows the center of insurgency and training camps is Pakistan. If you don't give money to Pakistan for one year, the fighting will finish in Afghanistan." Third, she says, "Instead of sending troops, send engineers, doctors, teachers."
Her proposals are sensible but are they workable? What good will it do to send doctors and teachers if the roads are too dangerous for them to travel where they're needed? Roshanak confirms what Jodie believes, though, and Jodie will post this clip online. Roshanak signs Jodie's petition urging Obama not to send troops and we race to the airport, passing the Indian embassy where, three days later, a suicide bomb will explode, killing 17.
I ask Jodie how she can be sure the President will see the petition. She doesn't know yet, she says, but ten days later she will find her opportunity.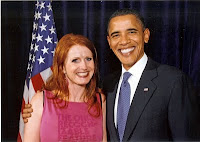 A friend buys two tickets to a Democratic fund raiser in San Francisco for $32,400, which entitles her to a photo op with the President.She invites Jodie to come, and after Obama puts his arm around Jodie for the picture, she hands him the petition and tells him women in Afghanistan don't want more troops and they're upset that women are not at the negotiating table. The President says, "What do you mean, I have Secretary of State Hillary Clinton…" Jodie says, "No, Afghan women want to be at the negotiating table." Later, Jodie reports that the President responded, "Oh." He told her he would not be able to fix Afghanistan quickly. She said, "You won't be able to fix it at all. Only they can."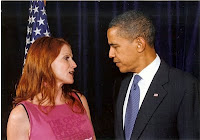 On our way to the airport, we have to stop for a huge convoy of U.S. army tanks and trucks to lumber by. Jodie says her views "haven't changed but have deepened. We've created a situation here that's so intolerable we can't just leave right now, without real training of the Afghan police and army."
Medea Benjamin, a co-founder of Code Pink, says she's come full circle. "At first I thought, oh no, maybe you're just having a knee-jerk anti-war attitude that doesn't reflect reality on the ground. But at the end of the trip I feel I do have the right position. We definitely shouldn't be sending more troops and the ones here should be phased out."
Rabia Roberts, on the other hand, has reversed her original stance. "I feel we have to admit a terrible truth: the standard anti-war position of `bring the troops home now' is in itself a violent policy. It will precipitate extreme violence." She acknowledges that adding more troops will also precipitate violence. "But can we have any development in Afgthanistan without security?" She adds, "I liked it better when I knew what the moral high ground was."
I'm leaving with no certainty but a humble appreciation of the complexities, of how there is "no solution on a white horse." It pains me that we're sending more troops and that the public dialogue is focused only on that number. I don't believe there can be a military solution, but understand that it will be a long, hard slog to attain stability and peace and that the U.S. must participate in that effort.
This will require work on multiple fronts, including talks with the Taliban, agreements with neighboring countries, redirecting the military to do aid work, securing the roads, cleaning up corruption, ensuring women's rights and launching an equivalent of the Marshall plan to build up the country, not to mention grace. The unexpected grace that, like the quality of mercy, "droppeth as the gentle rain from heaven."* A call for troop withdrawal or troop buildup now seems, to most of us, simplistic.
The situation, so labile and confounding, makes me think of F. Scott Fitzgerald's dictum: "The test of a first-rate intelligence is the ability to hold two opposing ideas at the same time and still retain the ability to function. One should, for example, be able to see that things are hopeless yet be determined to make them otherwise."
Despite the tensions in our group, we're grateful we've come and grateful to Jodie for organizing the trip. And we're grateful to be on the plane heading out.
*Shakespeare, "The Merchant of Venice"
PLEASE LEAVE A COMMENT: Where do you stand on this issue now?