Here's another fun part about aging: looking good takes more time and money, and I think we've got to draw the line somewhere.
For example: are eyebrows over or under the line?
I don't know exactly when this happened, but sometime between age 16 and now, my dark, thick, Elizabeth Taylor eyebrows turned to wispy broken lines.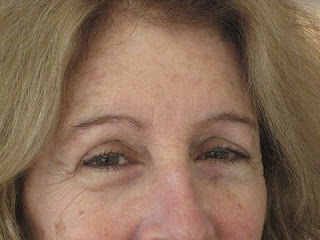 Before
I have friends who've had their eyebrows tattooed, but before resorting to a permanent measure I thought I'd consult an eyebrow specialist.
All roads lead to Valerie of Beverly Hills. In her lavender and cream salon, she does eyebrows for $75 while her associates do them for $40. Valerie is against tattooing because she says styles change and with time, the skin on your face will drop and your eyebrows may end up in the wrong place.
She sits you down in a chair, visible to all, and begins by coloring the brows to hide any gray. Then she waxes all around the eyebrows to create a clear palette.
Valerie is five foot two with eyes of blue and long, wavy blonde hair like Farrah Fawcett's in her heyday. She wears jeans, high heels and a low-cut blouse that shows cleavage. "I have good boobs," she says.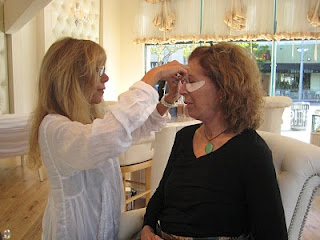 Valerie at work
My sister, who's joining me on the eyebrow adventure, asks, "Are they natural?"
"Course not," she says. "Feel how soft they are."
We do and they are.
"They're saline," she says.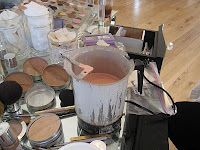 Her tools
Valerie has built a multi-million-dollar business doing eyebrows and makeup for women and men. Her clients range from 16 to 80, but many are boomers growing older along with Valerie.
She has three stencils for eyebrows – the Marilyn, the Brooke and the Pamela. She picks the Marilyn for me, sticks it on my face and brushes powder into the opening of the stencil, going against the grain of the hair. She lifts it off and OMG, what a difference! One of my brows is scraggly, the other is a clearly defined arch of a color that matches my hair. She plucks, brushes and smoothes until she's satisfied.

One done, one not.
As she works, Valerie tells my sister and me who the best plastic surgeons are for each part of the body and that we must use restylane below the nose and botox above it. Beverly Hills is ground zero for extreme beauty measures, from fake boobs and butts to all things injectible.
A woman in her 50s whom we'll call Randie prances into the salon and gives Valerie a kiss. Randie is all done up with a Western motif: a cowgirl hat with black onyx jewels in front, a miniskirt, fishnet stockings and hand-painted cowboy boots. She has a skin-tight t-shirt over such enormous, pneumatically-enhanced boobs that I can't read the words that run down her shirt. She sticks out her chest so I can read: "Sex is my favorite business."
She tells Valerie she wants go-to-bed makeup. "Yes!" Valerie says. "I can make you look natural but rosy and soft."
I don't understand this. I thought you took off your makeup before going to bed?
"You don't want to look all scrubbed and washed out," Valerie says. "When I have sex, I like to wear my jewelry, my push-up bra and lip gloss."
This is way over the line for me. But this is Valerie's favorite business. She does people's makeup herself every day and creates products which she sells online. "I'm constantly doing it, so I can make the products better and better," she says. "Watching your clients get older… along with yourself… you can find the next beauty product." She adds, "We're all going down the toilet together."
When I tell my friend Susan about the go-to-bed makeup, she says, "I'm not having sex these days but last time I did, my makeup was not an issue."

Susan admires my new brows, though. I walk out of Valerie's with a bag full of products and for the next few days, whenever I look at people all I see is eyebrows. Judging from the past, though, I'll get lazy and the products will rot in the drawer.
JOIN THE CONVERSATION. How do you deal with the body changing? Is it natural to want to look as good as you can for as long as you can, as Thomas Moore suggests? Or should we accept the perfection of our imperfections?