My daughter Rachel's wedding was nothing like the weddings my friends and I had back in the daze. It was a four-day celebration on a farm in Kansas and other sites in Missouri, and it was the most meaningful and ecstatic ceremony I've witnessed. What made it powerful for everyone attending was the sense that these two young people are truly soul mates.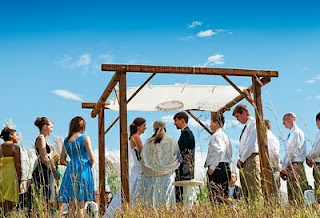 I'd been thrilled when they announced their engagement, but four days before the wedding, I woke up with tears running from my eyes. Rachel is 26, a certified music therapist, and her husband, Jay, 29, is an MD doing his residency in pediatrics. They share a passion for healing, for laughter, adventure and each other. Both speak Spanish and want to do service in Latin America. They balance each other in almost every way, so why was I in tears?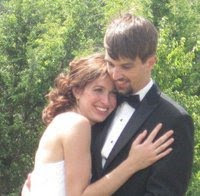 I cried at the hair salon, cried at the cleaners. I was a jumble of emotions: time passing, my baby grown, my own life closer to the end than the beginning, my own marriage and how it didn't work and yet produced two beautiful beings, my son, Andrew, and Rachel. Fortunately, by the time I got on the plane for Kansas City, I was cried out, because what I experienced in the following days was as close as humans come to unmitigated joy.
My son, Andrew, flew in from China where he lives
When I was married in 1968, no one I knew was having a big traditional wedding with a bridal gown and hundreds of guests. We thought it was a waste of money and inappropriate when so many people in our country were going hungry. It was another convention to toss aside.
What startles me – why am I surprised? –is that our children want what we rejected. They want the gown and all the trimmings, a wedding that goes on for days, often at a "destination."
Rachel and Jay wanted an intimate ceremony on his family's farm, a serene and fertile landscape that's been in Jay's family for generations, and then a larger reception at a hotel in Kansas City that's a two-hour drive away. This required the planning and precision of a major troop movement. Since Kansas ain't my home, the bulk of the planning was done by Rachel and her future in-laws.
I was assigned a few tasks related to Jewishness. Jay was not raised in any religious tradition, but Rachel wanted a Jewish ceremony and Jay said he was fine with that. My assignment was to arrange for the building of a chuppa, or bridal canopy, in rural Kansas. After many fruitless queries, I finally showed a picture of a chuppah to the hardware store owner in the one-street town of Seneca, the closest "town" to the farm. "Oh," he said, "I saw that in Meet the Fockers. I kin do that." Relief.
Then we searched for a rabbi who was willing to fly to Kansas City and drive four hours to marry a Jew and a non-Jew, just 3 days before Rosh ha Shana, the Jewish New Year.
Rachel emailed and interviewed many before she found a perfect fit: Rabbi Chava Bahle, who brought the spirit and passion of Jewish Renewal to Baileyville, Kansas.
Rachel wanted to spend the night before her wedding alone with her eight bridesmaids in a simple, lovely cabin built by the Rilingers on their land. The next morning, I was invited to join them. I found two hair stylists imported from Kansas City running an assembly line, styling hair for all the bridesmaids plus me and lastly, Rachel. The theme was curls: one maid had corkscrew curls framing her face; others had their hair swept up with braids, curls and twists. The only bridesmaid who had naturally curly hair wanted hers straightened, of course, as did I.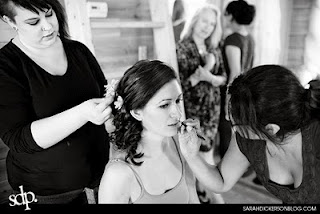 I found Rachel sitting in a tank top and pajama pants, having her makeup and then hair done. She'd originally wanted her long chestnut hair half up and half down, but at the last minute, she asked the stylist to sweep it to one side in a cascade of loose curls. "Bridesmaids!" she called. "Come give me your opinion." They let out a chorus of aahhhs and Rachel said, "I love my hair! I'm so glad I changed it." The stylist pinned three yellow flowers, fresh picked, into the curls.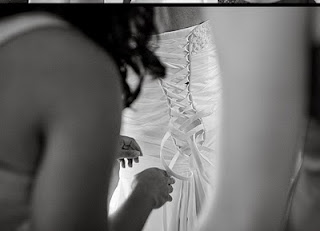 "Can I put my dress on now?" Rachel asked. It took three bridesmaids to help her into the dress and lace up the corset back. Rabbi Chava came in for the signing of the Ketubah, the marriage contract, and asked us all to join hands in a circle with Rachel. "This is sacred—the beginning of the ritual," she said. We passed love from hand to hand around the circle, then Chava read the Ketubah aloud and asked Rachel, "Are you ready to sign?" Rachel answered, almost in a whisper, "I am soooooo ready."

Chava left to take the Ketubah to the groom to sign, then the processional began. We stood up when Rachel and her father walked down the grassy aisle, not to Lohengrin but to Andean flute music Rachel had selected.
The two high points of the wedding for me were the declaring of vows and the couple's first dance. Rachel and Jay had written their vows separately, so when they said the words to each other under the chuppah, they were hearing them for the first time. Locking eyes, they listened as if no other sound existed. Jay adopted a light touch, telling her why he loves her and adding that for him, love is "feeling comfortable and safe with someone but still getting weak knees when they walk into a room and smile at you." At the end of her vows, Rachel said, "You're all I want, everything I need, and the best friend and partner I could ever dream of. I love you. Te amo, mi amor."
After placing rings on each other's fingers, Chava asked each to turn to their friends and family and recite words from the Song of Songs. Jay said them quietly and warmly. When it was Rachel's turn, she took his hand in both of hers and pumped it in the air, like a prize fighter's, exclaiming with animated body language: "THIS is my BELOVED! And THIS is my BEST FRIEND!"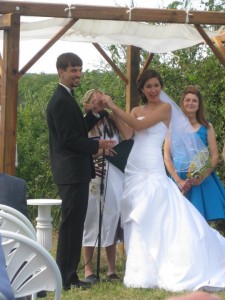 At the wedding dinner, it's traditional for the bride and groom to be the first couple on the dance floor, but Rachel and Jay hatched a different plan. First Rachel danced with her father, Jay danced with his mother, then the couple danced to a medley of three songs: salsa, Motown, and Stevie Wonder singing, "You Can Feel it All Over!"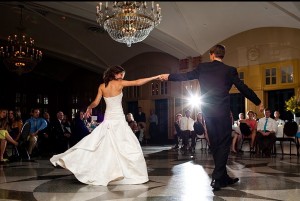 It was thrilling. Thrilling! It struck me at that moment that Jay resembles Fred Astaire—tall, slender, moving with a grace that seems effortless, romantic, masterful. Rachel dances with her own verve and charm—spicy and elegant. The beat is contagious, everybody starts clapping and as I clap, a strange thing happens. I feel like I'm dancing right with her. I watch her body twirl and sway and I'm twirling and swaying, the rhythm's taking over and I almost lift off my chair.
I've always wanted to dance, from the time I was three; I took continual lessons in ballet, tap, modern and jazz, read books about ballerinas and pinned photos of Nureyev and Fonteyn on my bedroom walls. Now my daughter was marrying Fred Astaire!
At the end of the dance, Jay dipped Rachel and kissed her. The audience swooned. Then she stood, raised her arms and motioned for everyone to join them, and everyone did. Young and old, Jews and goys, people of different faiths and cultures. After all the sitting and eating and driving back and forth across Kansas, it felt so good to move!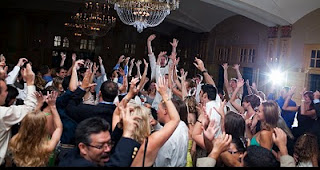 Around midnight, I went to my room and collapsed, while the newlyweds and friends went out clubbing and dancing till 3. We gathered for brunch the next morning, still cruising on joy. As Stevie Wonder sang, You could feel it all over.
PLEASE LEAVE A COMMENT: If you were at this wedding, please tell us, What were the high points for you? If you weren't, what are your favorite wedding memories?