Here's a tonic for the misery many of us feel these days when we hear the news from Washington. Rent "Iron Jawed Angels," an HBO film made in 2004. I came late to the party — I'd never heard of it — and when I recently saw the Netflix copy on my friend Nance's table, I thought it was a porno movie, or maybe something weird about a cult like the Hell's Angels?
To my shock, it was one of the best films I've seen in years. Halfway through it, Nance turned to me and said, "Every woman in America should see this." Every man too, I said.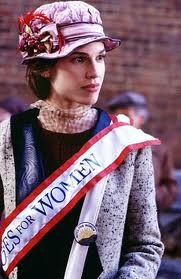 Hilary Swank and Anjelica Huston star as suffragettes who literally almost died to get the 19th amendment passed in 1920 giving women the right to vote. Think of it — that was less than a hundred years ago. When my mother was born, women could not vote.
I'd read about the suffragettes but hadn't known what they had to go through. When they gathered in front of the White House holding banners, they were beaten by gangs of men and thrown in jail on charges of "disrupting traffic." One woman arrested was the wife of a U.S. senator who opposed giving women the vote. When he came to see his wife in jail and asked how she could abandon her two daughters, she replied, "Those two girls are the reason I am here."
In prison, the women went on hunger strikes – a decade before Gandhi did – and were strapped down and brutally force fed with tubes down their throats. (This was before the I.V.) Finally, President Woodrow Wilson was shamed into proposing the amendment, which passed by only one vote!
It was humbling to see that a right we take for granted – a right many don't bother exercising – was passed by a smaller margin and with even more virulent opposition than Obama's health care plan. And, when Medicare was enacted, Ronald Reagan denounced it as "socialized medicine" and demanded it be overturned. Every attempt to move forward creates an equally strong backlash.
The film is riveting and charming, brilliantly performed by Swank and a string of award winning actresses from Huston to Lois Smith and Carrie Snodgress. The young suffragettes – gutsy, funny and utterly determined –reminded me of the women with whom I went to Afghanistan last fall. And I knew, had we been alive then, we would have been out there on the streets with the suffragettes. I doubt I would have gone to jail and starved myself. But that's what it took – a small band of radicals willing to risk their lives to move the giant sleeping middle over the line.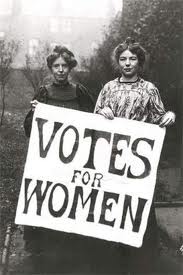 If you had lived during that era, where do you think you'd have stood on women's suffrage? What unsung movies can you bring to our attention?
Please leave a COMMENT below.