Just watching the video made me anxious. I was sitting in my warm, dry home but I started to feel panic — water entering my lungs, struggling, choking.
I was watching a demo of Total Immersion Swimming (TI), given to me by Danny Peleg, my TI instructor, a former Israeli navy seal. The video showed a man swimming freestyle in a graceful, steady rhythm, barely raising his lips out of the water to breathe so you could hardly see when he was taking in air.
"I can't do that!" I thought.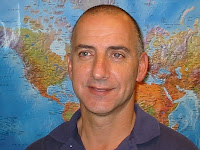 Danny Peleg – "Yes, you can."
But this story is a testament to the fact that it's never too late to learn something that scares you, and learning a new skill is the best antidote I know to depression and the blahs.
I grew up by the ocean, had swimming lessons and was constantly in the water, but I was never comfortable doing what was then called the Australian Crawl. Breast stroke, side stroke, backstroke—no problem. But with the crawl, I couldn't manage the breathing. I'd suck in water, gag, sputter and after one lap I was exhausted.
In my 20s I took up snorkeling—where you have constant access to air—and after that, I'd only swim with a snorkel, even in a pool.
A year ago, I was swimming in the Caribbean with friends and even using a snorkel, I was the slowest in the group and the first to get tired. That's it, I thought, I need lessons.
I found a woman coach who watched me swim and said I was doing everything wrong. Especially kicking. When I held onto a board and kicked as hard as I could, I didn't move at all. In fact, I went backwards. The coach said I should use my hips, buttocks and thighs to kick but keep the knees and ankles relaxed while the toes should be pointed. Huh? I tried to point the toes but relax the knees and ankles and still couldn't get any forward momentum.
In our third lesson, I broke into tears. "I can't seem to get it and I feel like you're irritated and frustrated with me," I said. She apologized, saying she was stressed, teaching too many hours, and I should forget all the instruction and just swim. She looked in my eyes and said, "You LOVE the water."
"I do," I said. I love it and fear it, but it's the love that's driving me to want to swim better.
We made progress after that. I learned to shift from side to side instead of lying flat and I was finally ready to let go of the snorkel. Then I hit a wall. After months of exercises and trying different strategies, I could not swim one length of the pool without panting and nearly collapsing.
I was resigned to sticking with the snorkel when, by chance, I went to a lecture and sat behind a man wearing a t-shirt that said, "Total Immersion Swimming. We turn struggles into skills." I'd read about TI, which claims to transform people who have fears and problems in the water into relaxed, confident swimmers.
Two weeks later, I had my first TI lesson with Danny. He was encouraging, patient and clear, breaking each teaching element into small steps that could be easily mastered. He took videos of me swimming which we watched instantly so it was easy to make corrections.
After one lesson, I swam four lengths of the gym pool without stopping. After three lessons, I was swimming nonstop for 15 minutes and now, after finishing six lessons, I can swim as long as I wish and emerge from the water feeling nourished and exuberant. Look ma, no snorkel!
How does TI work? It was created by Terry Laughlin, who'd discovered that only 2% of Americans can swim a quarter of a mile continuously. TI is based on relaxing and gliding, with minimal leg movement, rather than wind-milling the arms and kicking hard. The focus is not on speed but flow — "fish-like swimming that's streamlined and easy." It's also called "mindful swimming," a form of meditative movement like yoga. With TI, I was using minimal energy, I didn't get as winded and was able to take in all the air I needed. Plus, it's great as we get older because swimming is low impact and tones the entire body.
My only problem is getting into the cold water. So… I swim in a shorty wetsuit. I look dorky but hey, I tell myself, "Get over it."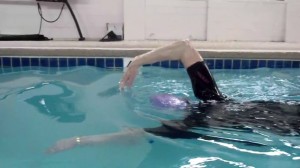 PLEASE LEAVE A COMMENT: What do you want to learn or have you learned recently?
CONTACT Danny Peleg or find a coach in another city.
WATCH Total Immersion video.

JANUARY BOOK
Joan Borysenko has a terrific new book, "Fried," about burnout and how to revive from it. She says burnout is different from depression or being overworked. With burnout, one's life force seems to have vanished. You feel emotionally exhausted, void of motivation or hope. But it's a state that can prompt you to create a more authentic life.
What's unique about the book—and this may be a first—is that Joan wrote it drawing on ideas and stories contributed by her Facebook friends. They even came up with the title. To read more, click here.