Last fall, John Chitty, a man I know in Boulder, was diagnosed with stage 4 prostate cancer. His PSA score was 266! (Most doctors consider a normal score to be 4 or below) The cancer had metastasized to his bones and lungs with tumors "too numerous to count." His prognosis, obviously, was dire.
Because John founded and heads the Colorado School of Energy Studies, he launched a full-out campaign to heal himself, doing everything he knew or learned about to make his body inhospitable to cancer. He ate only greens and seeds, had coffee enemas and oxygen treatments and took supplements too numerous to count.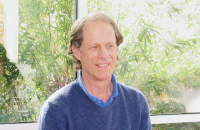 John Chitty
A friend brought him to a talk by Dr. Zhi Gong Sha, who has an MD in western medicine from Xi'an JiaoTong University, was named Qigong Master of the Year in 2002 by the World Congress on Qigong, and is a Grandmaster of Taoist healing. That meeting would dramatically affect the course of John's illness.
John had no symptoms except frequent urination. At the talk, Dr. Sha demonstrated his treatment on John and the next morning, John says, urination was back to normal. Dr. Sha had offered John free tuition at a 10-day workshop, so John dropped everything and left for 10 days of nonstop Taoist practices and more healing from Dr. Sha. Shortly afterward, when John was tested again, his PSA score was…. Want to guess?
John told me: "It's 1.4." His oncologist called this "remarkable," and x-rays of his lungs showed the tumors were all shrinking.
How had this happened? John had been taking hormones that block testosterone and was also doing dozens of natural interventions. (For a list, click here) But he feels Dr. Sha's healing was a "huge factor" in his improvement.
A few months later, when I was in Hawaii, my sister, Terry, told me Dr. Sha was coming to Honolulu. Terry had recently developed four lumps on her thyroid — diagnosed as "multi-nodular goiter." The doctor told her it would not go away through diet or medication and they would watch it for six months, hoping it would not grow larger.
Since Terry needed healing and I was curious to see Dr. Sha, we each paid $100 for his Soul Healing Day at the Ilikai Hotel. I've never seen anyone work like Dr. Sha. When he demonstrates on Angelika Carmona, who has just been diagnosed with breast cancer, he makes sharp movements with his arms, stomps his foot and yells so loudly that I jump: "Trans-mission!" He asks everyone in the room to point to Angelika, shake their hands rapidly and chant phrases like, "Divine treasures, heal her!"
Angelika does not wish to receive radiation or chemotherapy. Dr. Sha asks two MD's who're attending the workshop, a professor at the University of Hawaii medical school and a retired surgeon, to palpate Angelika's tumor. They describe it as 4 cm, hard and immovable. For the next four hours, Dr. Sha chants, sings, yells, swings his arms, calls on the divine and urges the group to chant and shake their hands rapidly. He takes off his suit jacket and wipes sweat from his face. Looking around, I feel like I'm at a mass faith healing.
Dr. Sha asserts that the cause of all sickness is karma—the effects of deeds from this life and past ones—and that if he can clear the bad karma, the person will get well because the soul has been healed. He tells us a curse has been placed on Angelika's breast by someone she harmed in a past life. He sees "dark souls" in Angelika's body and gives the command for them to leave. "Trans-mission!" Moments later, he says, "Dark souls are gone!" People applaud.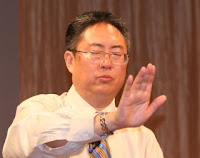 I must acknowledge that I'm an agnostic when it comes to reincarnation, let alone dark souls and curses. I don't believe, literally, that we go through life again and again in different bodies, although I can entertain the concept as a metaphor. As for karma, something feels intuitively right about "what goes around comes around," but how that works exactly is, to me, a mystery.
At the Ilikai Hotel, I can't say if dark souls have been exorcised from Angelika's body, but the two M.D.'s who examine her report that the tumor has shrunk to 1.5 cm and is soft and pliable. Angelika looks flushed and radiant, smiling with tears in her eyes.
When I describe this later to Donald Abrams, MD, an integrative oncologist who's chief of oncology at San Francisco General Hospital, he says, "It would be better if they'd done an MRI or other scan before and after Dr. Sha's treatment to provide objective evidence." When I tell this to Angelika, she says she had three MRI's before seeing Dr. Sha but won't have any more radiation because it's harmful to the immune system. She's using Dr. Sha's healing techniques herself and will have a thermography test on April 19. "I think I can get it out of my system completely by then," she says.
Dr. Sha tells people at the workshop that after a break, he'll clear karma, remove curses and heal sicknesses. After he leaves the room, an assistant makes the pitch: $1,000 to clear karma, $500 to remove a curse and $500 to heal an illness. "This is cheap," the assistant says, explaining that people who have cancer could be charged hundreds of thousands for western medical treatment. He adds, "How can you put a price on clearing karma?" Dr. Sha tells me later that he's been guided to charge "honor fees" because "people have a spiritual debt they need to honor." So here's my question: You can see and feel if a healing produces results, but how can you tell if karma truly has been cleared?
Since I had no illness, I decided to leave then but Terry stayed to have her goiter healed. The next morning, she called and said, "It's amazing — the nodules are gone." She and her husband couldn't find the largest nodule that they'd had no trouble finding before, although she still felt soreness in her throat. She's eager to see what her tests will show in six months.
I find Dr. Sha a consummate paradox. He's extremely generous and he's constantly selling. He gave my friend John free treatments and tuition, while others paid more than ten thousand for his services. In his books he teaches you to clear your own karma, but if you attend one of his soul healing days, he'll do it for you and says that works fastest. He speaks about dark souls and curses yet his work is producing results that are palpable. People say he's healed them of blindness, deafness and tumors, yet others have died. Dr. Sha acknowledges, "Nothing works 100% of the time."
After spending three days around him, what I can say is that I feel an expansion of love and a resolve to serve more. Returning to the place I'm renting in Kailua, I picked up an old book, "The Golden Bough," and came across a passage that was uncannily similar to what I witnessed with Dr Sha. It describes a small village in Indonesia where, when sickness ravages the population, they build a boat and everyone fills it with whatever they can offer — rice, tobacco, eggs. They take the boat to the sea, push it off and watch until it disappears from sight. Then the leader cries out: "The sicknesses are now gone, vanished, expelled, and sailed away!" Everyone cheers.