I've just published JOAN, a memoir about my 40 years of friendship with Joan Didion, and what I've learned from her about writing and about life.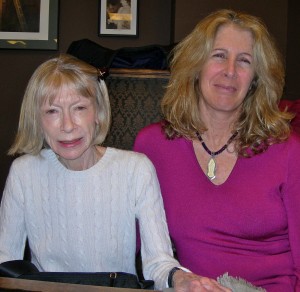 I did not set out to do this, however, when I interviewed Joan on the fourth of July for Oprah magazine. I'd been assigned to talk with her about Blue Nights, her breathtaking new book about losing her only child and growing older.
She's 76 now, but when I met her she was 36, a rising star whose work was already being called the "finest prose being written in this country today."*
Although she's always looked frail–95 pounds on a tiny frame–I've known her to be tough and in control. She was brought up to live by the Western code of self-reliance, not complaining and never giving up. Her ancestors came to California in covered wagons, and her great great grandmother had to bury a baby that died of fever on the trail, burying him fast because the wagons were moving right on.
"That's the persona I prefer," Joan told me. "I'm strong. I can cross the plains. Bury that baby."
In the past decade, however, Joan has suffered tragedies of Biblical proportion. She lost her husband, John Dunne, then lost their only child, Quintana, and then her own health began to fail. She sometimes walks with a cane and her eyesight is poor. "For the first time ever, I feel frail," Joan said, adding that she no longer "believes absolutely" in her ability to overcome any obstacle.
"So the Western code…?" I said.
"It's not my code anymore because I'm not self reliant. It would be a useless code."
I asked if anything has replaced it.
"Work harder." She laughed. "I think we need to find another code."
What might that be? I asked.
"I don't know." But after reflecting, she said the code would have to include "acceptance. And surrender." She looked taken aback, as I was, by what she'd just heard herself say. "Surrender was never close to my code before! It did not involve surrender. But I don't mean it in a negative way, like giving up. I mean… acceptance."
This seemed an enormous change, and I made that the theme of my piece for Oprah.
Then a strange thing happened. They rejected the piece. The editor said it wasn't interesting, and "there's no point." But there is a point, I said. "Here's a writer who's an icon, who's been articulating a consistent code for forty years and now, in her 70's, all the planks she's been standing on have been kicked out from under her. How is she adapting?"
Besides, I added, any conversation with Joan Didion is interesting, because of the startling and delightful way she expresses herself.
"Maybe our readers wouldn't feel that way," the editor said. "Maybe they wouldn't care."
This made no sense to me, and it was a devastating blow. I'd been a contributing editor of Oprah since it was founded, and now the door was being slammed. Other doors had been slammed, (many) and I wondered if the gods were telling me I wasn't meant to be writing for publication any longer.
Happily, this is one of those instances when bad news turns out to be a blessing. After licking my wounds, I realized that I'd obtained richer and deeper material from my interview with Joan on July 4 than Oprah would have printed. In addition, over the decades, I'd done three other remarkable interviews with Joan, as well as with her husband and even her daughter, when she was seven.
By drawing on all those interviews and my memories, I felt, I had a unique story to tell. I wrote a 50-page memoir of my friendship with Joan and submitted it to Byliner.com. The site was founded by a group of talented and accomplished writers who wanted to create an outlet for compelling nonfiction. They publish "Byliner Originals," which are meant to be read at one sitting–not as long as a book but longer than what a magazine might print. The first piece they published was John Krakauer's "Three Cups of Deceit."
The Byliner staff was thrilled with the article, which they'll distribute on October 27. Simply called, JOAN, it contains material never published before:
– the night Warren Beatty tried to seduce her.
– Joan's recipe for a novel that "takes."
– How to enter the "writing space" each day.
– How losing a child is different from losing a husband.
– Joan's evolution from a Barry Goldwater girl to a supporter of Jerry Brown.
– How she came to Zen Buddhism.
– Her response to the question: Can she ever really bury the baby?
It's also a primer on writing and the writer's life.
And you can READ IT for $2.99, on any electronic device–Kindle, ipad, Nook, your computer or your phone. CLICK HERE to buy JOAN. If you'd rather read it on paper, you can print it out from your computer.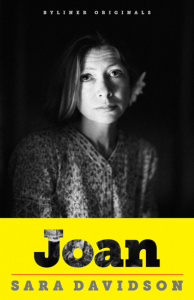 I think you'll find inspiration, humor and pleasure in the story. And you'll be helping Byliner, other authors and me to continue the work we love doing.
I thank you in advance, and if you like JOAN, I'd be even more thrilled if you'd post a review on Amazon. May you enjoy!
* Dan Wakefield, New York Times Book Review