Part one of a two-part blog
"The worst trips make the best reading," Paul Theroux, the vaunted travel writer, says, because they're stories of survival.
When people ask about my recent trip to China, I say, "It was the best of trips and the worst of trips." Spending time with my son, Andrew, who lives there, was enriching and delightful. But we experienced the biggest travel disaster I've known.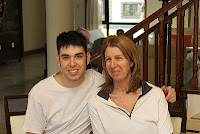 Mom and Son
Andrew had gone to China right after graduating from U.C. San Diego. He'd planned to spend a year learning Mandarin, then come home and get a joint business-law degree. Sight unseen, he picked out a language school on the Internet in a city he couldn't pronounce—Shijiazhuang—that had 9 million people but only a hundred foreigners. He chose that school because it offered four hours of one-on-one instruction every day, which is critical when you're trying to learn to make sounds like qi and xie.
That was six years ago. He fell in love with China, and with a beautiful and vivacious young Chinese woman, made numerous friends and was welcomed into the city's business community. He started a Chinese internet company devoted to photography lighting, and found he could lead a very good life—four bedroom apartment, car and driver and a maid who cooks and cleans 7 days a week—for a fraction of what that would cost in America.
I'd visited him soon after he'd arrived, but five years had passed and I wanted to meet his girlfriend, see his new home and office. In October, I flew with my sister, Terry, to Beijing, where we met up with Andrew and Yang Fei, who spoke not a word of English. I'd told Andy to plan a trip to some place in China they hadn't been yet.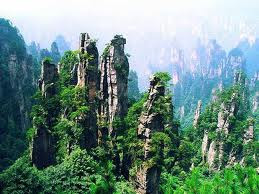 Zhangjiajie
They picked two cities I'd never heard of. One, Zhangjiajie, (don't even try) has a national forest where the movie Avatar was filmed. Remember those otherworldly enchanted mountains that shoot straight up like fingers, with arches and looping valleys shrouded in gray-green mist? We spent days exploring them, on trails that were cantilevered out from the sheer cliffs.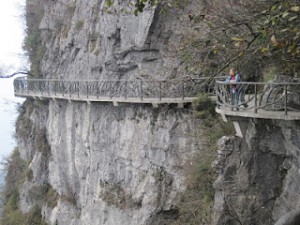 Terry on cliff path
In one stretch, the trail was made not of stone but of thick glass, so if you looked down you saw—beneath your shoes—nothing! A straight drop to the valley thousands of feet below, and you're on glass with nothing to hold onto but a rail. That was too much for me, and Andy said we shouldn't do it because "You have to rent booties for the glass."
Terry, who's competed in races, said, "So what? When will we ever be here again? Never! We've got to do it."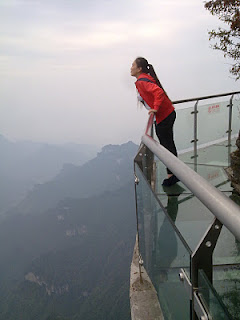 Yang Fei on glass path
Yang Fei led the charge. I sat on a bench while the three of them made their way, letting out shrieks, along the glass jutting out over the abyss. Chinese women, I was learning, are gutsy; I watched them arrive in stiletto heels, slip on booties and strut across the glass as if it were a runway.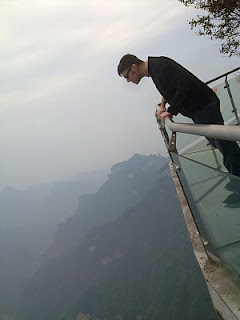 On our last day, we wanted see the terrain where Avatar had been filmed.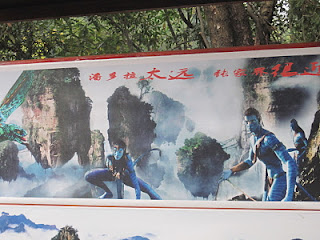 Andy and Yang Fei consulted a map in Chinese and led us onto a trail marked "Path to the Heaven." We climbed a flight of stone steps which, I thought, would lead to a beautiful viewing site. In China, I was discovering, hiking in the mountains is not walking up dirt trails but climbing cement stairs built into the mountain, going straight up. When we came to the top of the flight, the path jogged to the right and there was another flight -– 5 or 6 stories high. Each time we reached what had appeared to be the top, there was an even more forbidding flight going higher.
After an hour of endless stairs, I wanted to turn and go back down. I've had injuries in both knees and climbing steps is the worst stress for knees. If one of my knees went out, I wouldn't be able to walk for the rest of the trip. But Andy and Yang Fei had disappeared up ahead and Terry said we couldn't go down or we'd never find them. She coaxed me to take one flight at a time, not looking up or down, but my knees began to throb with pain. After two hours, I sat down and said I couldn't go any further. I'd seen Chinese men with sedan chairs at the bottom of the mountain. I needed them to come and carry me out of this goddamned place.
To be continued.
 NOTE! My short memoir, JOAN, about my 40-year friendship with Joan Didion, is the number one rated Kindle single by readers on Amazon. You can buy it for only $2.99.
You can also send JOAN as a holiday gift to anyone who has an email address. Click here and on the right, "Give as gift"