Part two of the best and worst trip to China. To read part one, click here.
After two hours of climbing the "Path to the Heaven" with no end in sight, my knees gave out and I refused to go further. Terry, my sister, went on climbing hoping to find help, and after a few minutes, called to me that she'd reached the top and found my son, Andy, and his girlfriend, Yang Fei. They scampered down to help me to the top, where we saw a wide road with buses ferrying Chinese tourists up and down the mountain. We hadn't seen a soul on the Path to the Heaven and now we knew why: everyone else took the bus! I learned, later, we had climbed 3,000 feet.
Exhausted, feeling nearly crippled, I swallowed some Advil and sat happily on a bench while the others took a tour of the Avatar sites, which they said were magnificent and surreal.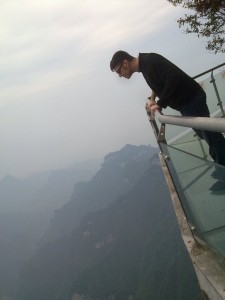 The next morning my knees were okay, but we had to get up at 5 a.m. to catch the first of two flights to Shijiazhuang, my son's home. (Henceforth I'll call it Shiz) We had a six-hour layover between flights. Andy discovered a spa at the airport, where we could have massages and rest. Every day we'd been in China we had foot massages that are like no other foot treatment in the world. We were given a private room with four beds, a flat screen TV, and served tea and snacks when we wished. As we stretched out on the beds in the airport spa, four therapists walked in carrying tubs of warm milk with rose petals floating in them. As we soaked our feet, they massaged our heads, necks and shoulders.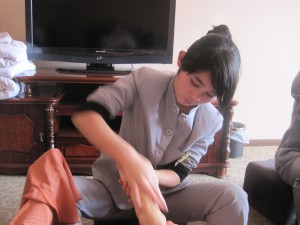 They spent 90 minutes on the feet, kneading, rubbing, pounding and pressing tiny points on the toe and between toes and under and over the bones with such specificity that it was breathtaking. All for about $12. When they finished, my feet had never felt so alive, as if fireworks were going off under the skin. I could feel every fiber of my sock when I slipped it on. We watched a movie and took naps until it was time to check in for our final flight.
That's when disaster struck. The flight was canceled at the last minute because of fog around Shiz. The airline said they'd put us on a flight the next night or refund our money. The next night was not an option. Andy had allotted us only one full day in Shiz before we had to fly home from Beijing. The main point of my coming to China was to see his home, his company, meet his staff and his dog and have dinner with Yang Fei's parents. If we couldn't get to Shiz for that last day, we'd have to leave China without seeing any of it.
Andy and Yang Fei starting working their cell phones, trying to find some other way of getting to Shiz. It was Friday night now, and every seat on every flight to Beijing, from which we could take a train to Shiz, was booked. They tried the railroad but all the trains were sold out. Finally, Andy found the last four seats on a flight to Taiyuan, which was a two-hour drive from Shiz. He called his driver and arranged for him to meet us at the airport.
Relief! We landed in Taiyuan at 8:30 p.m., met the driver and settled in for the last leg of the trip. We were moving right along when suddenly the traffic slowed, then came to a dead stop. As far as we could see, giant trucks and cars were stalled, and they'd shut off their engines — a very bad sign.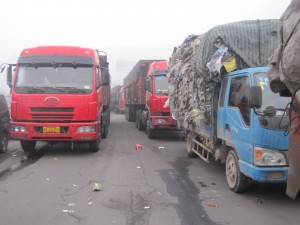 Had there been a massive accident, a landslide, a road collapse? We waited an hour, then another hour. Nothing moved. People walking between the rows of vehicles said the road was closed ahead because of the fog in Shiz. Needing to do something, I got out and walked past what felt like miles of trucks and cars until I saw the barricade. A sign said we were only 30 miles from Shiz! But there was no way off the road, ahead, behind or sideways. We were trapped!
All bets were off. Nothing to do but settle in for a miserable night. There were 5 of us in the car and Yang Fei had contracted a bad cold, coughing and sneezing. I had developed the runs, and had to exit the car periodically to do it in the road, as the Beatles sang. Have you ever spent the night sitting up in a car? We tried to catch some sleep until daylight, when surely they would open the road. But between the coughing, the runs and our cramped positions, no one slept much.
When dawn finally came, the fog was thicker than before. Vendors were walking up the rows, selling tea and noodles.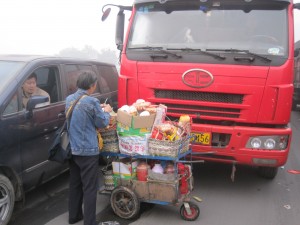 I began to think we might be stuck here for days! Terry had a brainstorm: "We should call the American embassy."
"That's ridiculous!" Andy said.
Maybe they could investigate, I said, or call the local authorities. At least we'd get some information.
Andy folded his arms and shook his head. "Relax. They'll open the road when the fog lifts."
"But that might not be for days!" I got out and walked again to the barricade, having to step over puddles of pee and piles of excrement. There was a police car there now with two Chinese officers. With hand gestures, I tried to ask when the road would open. They pointed to the fog, then made a crashing gesture with two fists. One held a mock telephone to his ear, indicating there'd be a call when it was okay to open the road. I held out my watch, urging them to point to the hour it might open. They pointed to ten. Ten! It was only 6:30 a.m.
We waited, playing card games to pass the time. Around nine, Yang Fei jumped out and walked to the barricade. When she returned, jabbering in Chinese, Andy burst out laughing.
"What?" we asked.
"She told the police we had two foreigners in our car who're sick and shitting all over the road."
Whether that message worked or the phone call arrived, I'll never know, but shortly after Yang Fei's exchange, our lane began to move. The police wouldn't have cared about shitting in the road, but the Chinese are now doing cartwheels to welcome foreigners as tourists and to do business. Tourists getting sick in a 15-hour traffic jam is almost as bad for their image as tourists getting shot by terrorists.
Once we sailed past the barricade, the highway was empty. At 11:30 a.m. we checked into a hotel in Shiz and went straight to bed. We'd started out at 5 a.m. the day before and been in transit for 30 hours.
That evening, Andy gave us a quick tour of his home and office, introduced us to his dog, his maid and several friends. Then Yang Fei treated us to a multi-course banquet in a private dining room with her parents.
Andy coached me in Chinese etiquette: I should make toasts, starting with the oldest person at the table and capping each toast by downing a glass of beer.
With Andy translating, I toasted Yang Fei's father, mother and Yang Fei herself, but most important, I toasted my son. He'd spent 10 days with three women—his mother, his aunt and his girlfriend–under stressful conditions and only lost his cool twice. He had to translate constantly between Terry, Yang Fei and me, sometimes with two of us speaking to him at once. He wanted to accommodate our different and often conflicting needs, and the grace with which he pulled this off was awe inspiring.
Without my watching, he'd metamorphosed from a green college grad into a mature and terrific young man. He'd arrived by himself in Shiz, knowing no one and not a word of the language, and now he could conduct business in Chinese, manage 12 employees and a household and make his way through tangles of Chinese regulations, taxes and export/import laws.
Being able to see the life he's created here and feel the love surrounding him was worth the punishing journey. We survived, and isn't it a far better story than if everything had been blue sky and quaint pagodas?
HOLIDAY GIFT: Click here to send JOAN, the memoir about my 40-year friendship with Joan Didion, to anyone who has an email address. Or treat yourself – only $2.99.