Hemingway wrote in his collection, By-line: Ernest Hemingway, "You must be prepared to work always without applause." He said critics would take joy in pronouncing your latest work a failure and you wouldn't be able to look at it for years. And then, one day, in some other place, you would pick it up and open it, start to read and in a little while say, "Why this stuff is bloody marvelous."
Have you had an experience like that, revisiting work you did years ago? I recently obtained the digital rights to Loose Change, my first book, published in 1977, about three women growing up in the Sixties. It was trashed by critics at the time, whose comments are embedded in my mind. Newsweek ran the picture of me and caption below.
But the book went on to sell more than a million copies.
I hadn't looked at in 35 years when I sat down to read every word, to make sure the version I'd scanned into digital format was accurate. I squirmed at some of the sentences, but Hemingway was right. Bloody marvelous.
I wrote it just as the Sixties were winding down, when everything was still fresh and vivid to me. The three main characters were myself and two friends at Berkeley, the campus that became ground zero for the cultural revolution. The old chestnut that "if you remember the Sixties, you weren't there," doesn't apply to this reporter. I not only was there, I took notes.
The book propelled me back to that time that belonged to the young, a time when we typed our papers with carbons and rarely made a long distance call because it was too expensive. Every Sunday I wrote home to my family, thinking of it as my weekly pack of lies, exaggerating the good and omitting the bad.
At the start of the Sixties, husbands weren't allowed near their wives when they gave birth, blacks couldn't vote in many states and women who weren't married by 24 were called "spinsters." We had no Internet, faxes, cell phones or computers, but we had time, glorious time. Time to experiment with people and substances, time to spend whole evenings lying on the floor, listening to music whose greatness we did not perceive for the anomaly it was until decades later.
I'd forgotten so much about the innocence of those years. What astonished me most was the tale of Susie Berman, who, at 22 married a star of the radical student movement, Jeff, who initiated her into political protest and sex. She stood by his side when Jeff made speeches at rallies, typed his leaflets and adopted his opinions on everything from capitalism to jealousy (it was bourgeois) and how often to do laundry. (hardly ever)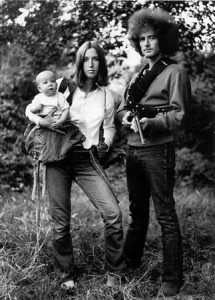 posing as the radical couple, with baby and gun
My friends and I envied Susie, thinking she was advanced and racy and that she and Jeff were the perfect free couple. What we did not know was that Susie had never had an orgasm but become an expert at faking it.
As protest and the counter culture spread across the country, their marriage began to unravel. In 1968, they joined an encounter group of couples who wanted to live together in a group house so they could "smash monogamy." At the same time, Susie was invited by a female friend to attend a meeting of women in the Movement who were talking about women's oppression.
"Women's what?" Susie said with a laugh. She wasn't oppressed—her husband sometimes cooked and let her sleep with other men. Her friend started telling her how women were like blacks, women were treated as inferiors and kept in subservient positions to men. "Look at you," her friend said, "you've got a master's degree but what are you doing with it? Typing your husband's work?"
Susie went to the meeting with apprehension. She'd always preferred hanging out with men. But as she listened to these women, who were talking about their lives with such candor, humor and intimacy, she could connect with and feel love for each one.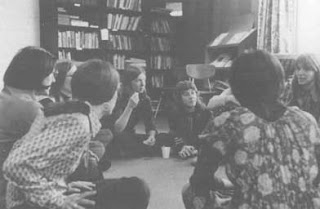 Something far out was happening but they didn't know what it was. They weren't calling it "women's liberation." They didn't have words like "consciousness raising." They tried to draw up a reading list but could only come up with a few books, so they started collecting data about their own lives.
Before long, the "women's thing" was all Susie could talk about. Jeff and his friends grumbled that the group was counter-revolutionary, a conspiracy of dykes who were anti-sex. Jeff came home one day laughing and waving a copy of an underground paper with the headline: "Our line on the women's trip—LET THEM EAT COCK."
Can you imagine? I'd forgotten how men—even the most progressive, enlightened men—had attacked women for putting forward their claims to equal rights.
Jeff was beginning to sound defensive, though. "For the first time," Susie recalled, "he couldn't tell me I was wrong or didn't understand. He couldn't quote Marx. He couldn't mow me down with rhetoric. In fact I had Marx and Engels on my side."
What made it confusing for Susie was that there were two revolutions going on at once. At the encounter group, they were experimenting with sex and relationships. "Let's all be free, fuck each other and get rid of our bourgeois hangups."
But in the women's group they were furious at being treated as sex objects, and vowed to stop shaving their legs and wearing makeup. "It was two different messages and I wanted to follow both," Susie said. "I hadn't fucked all the men I wanted to yet. But I'd been treated as a sex object all my life. I liked it and needed it, but it left me feeling empty and unseen. So those things were all mixed up and everything was changing so fast…"
Recounting this years later, Susie paused, and a gleam came to her eye. "But it was sure exciting!"
At one of the women's meetings, the doorbell rang and an unidentified man left a package on the stoop. It contained a vibrator and a picture of naked girls breaking their chains. The women were outraged, but Susie took the vibrator home and in a private moment, turned it on and had an orgasm, her first, wham like that. "So that's what it is," she thought. When she told Jeff about it, he swept her up in his arms and danced around the room. "Oh, babe, don't you see? Everything's gonna be all right."
To find out what happened to Susie and Jeff, to all of us, click here.
For one week, you can buy Loose Change as an e-book for $3.99 and read it on any device, computer or phone. Buy from Amazon, Barnes & Noble or Apple iTunes. After that the price will be higher. You can re-experience the Sixties, as it was recorded right then, not as it's been reevaluated or romanticized. It's also a great gift for those who didn't live through the period and want to hear what it was like, uncensored and unvarnished.
I'd love to hear your COMMENTS.
You can also read the e-book of Cowboy, for $3.99 — the story of a romance I had with an uneducated cowboy artist
Thanks to to Brian Schwartz, the Kindle Expert, for helping me publish the e-book of Loose Change, and to U.C. Press, which keeps the paperback version in print. I worked on getting this digitized for a year, and Brian finally took me across the finish line. He'll convert your files and give you video tutorials so can publish the works yourself and keep all the royalties.