The email arrived late Friday: "The President and Mrs. Obama request the pleasure of your company at a Hanukkah reception at the White House on Wednesday, December 17, 2014."
I read it again, and again. It was exciting, but why had I received this?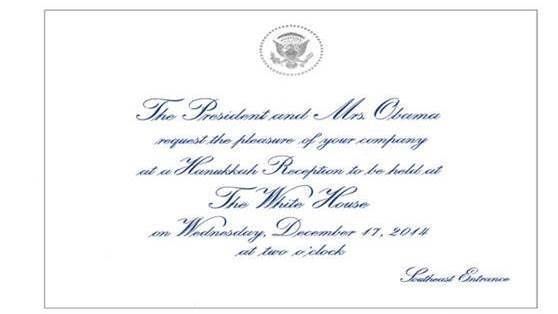 As It happened, I was about to fly to New York for a week and could easily take the train to Washington.
But what would I wear? The invite said, "business or holiday attire." In Boulder, where I've lived the past 12 years, business attire means a clean shirt and jeans.
Peter Swift, who's the mayor of Gold Hill, CO, stopped by that night, and I showed him the invite. It asked me to RSVP with the "date of birth, social security number, city and state of residence and country of citizenship of your guest and yourself."
"It's a scam," Peter said. "If you send all that info, they'll have your accounts cleaned out fast."
This hadn't occurred to me, but now it did seem fishy. The White House could easily access my information, so why ask for it? And would they really send out invites only five days in advance?
We searched online and found no evidence of a scam for the White House Hanukkah party. But when we googled the return email address, Hanukkah1RSVP@who.eop.gov, the screen said, "No Results."
I asked friends who'd been to the White House if they thought the invite was real, and they said, "Hard to tell." But Mark Whitaker, who'd been Washington Bureau chief for NBC, said it looked similar to ones he'd received, and the return address was that of the White House.
Okay. I found an outfit in a wardrobe bag of clothes I'd worn when I worked in Hollywood, and left for the airport. I got a call from a man in L.A. whom I'd just recently met, John Berzner. When I told him I might be going to the White House, he blurted, "Can you bring a guest?"
I was caught off guard. I'd already asked three friends in New York to come and they said they couldn't rearrange their schedules on such short notice.
I told John it might not be legit, and anyway, it didn't seem worth flying across the country for. "I'm coming," he said.
To call John an extrovert, or assertive, would be an understatement. In the two times I'd gone with him to a restaurant, he started conversations with people at all the tables around us, invited a stranger at the bar to join us for dinner, and crashed a party being held in a private room. He told me numerous times, "I'm a producer. I make things happen." What exactly he produces, though, I haven't yet found out.
For better or worse, he was my guest.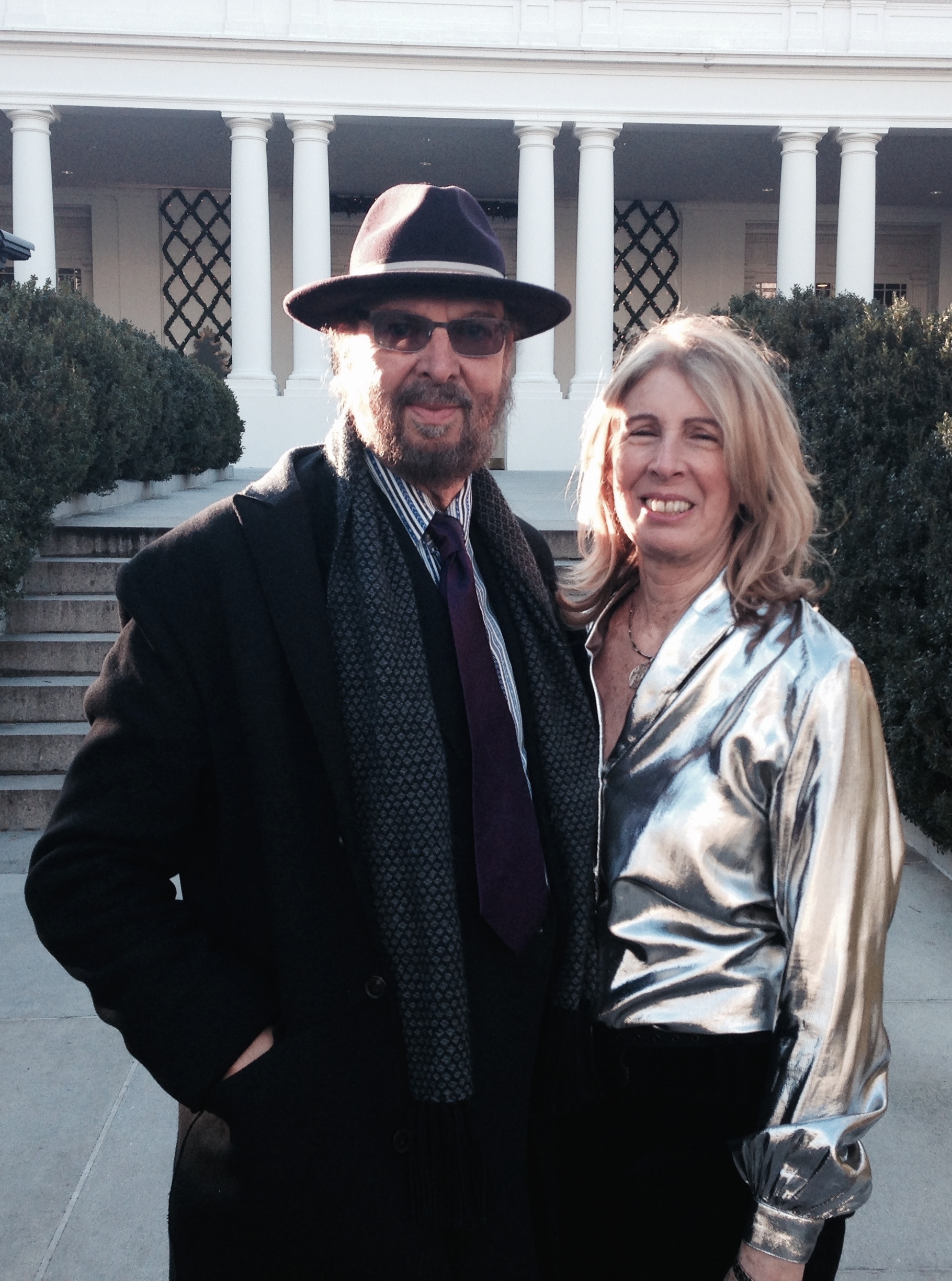 He picked me up at the Washington train station in a limo, which was nice, and brought me to the University Club where he'd booked a room. The White House party was at 2 pm, the gates opened at 1:30, and I told him I wanted to be there at 1:15, since there would be a long line to clear security. I thought it also might be wise to eat something first.
"What would you like? I'm here to serve you," he said.
Something simple, maybe a turkey sandwich? He asked his driver where the best deli in Washington was, and said he'd go there for sandwiches. It was now 1 pm and I begged him not to fight the traffic to get there and back. "I don't care about the sandwich. Let's just get to the White House."
"You care," he said, "or you wouldn't have asked." He refused to be deterred, so I changed clothes while he went for the food.
It was 2 when we reached the White House, and as we waited in the long line, I got a text from a friend telling me Obama had just announced he's restoring diplomatic relations with Cuba. I was thrilled! I'd been to Cuba recently and had been praying I would see this in my lifetime.
Earlier in the day, before hearing the news, John had told me he'd brought one of his prize Cuban cigars to give the President. I said Obama couldn't take any gift or object handed to him—it might be poisoned or harmful.
John gave a knowing smile. "Around me, things happen that don't normally happen. Miracles—every day."
Right.
After 90 minutes and 3 checkpoints, we were in!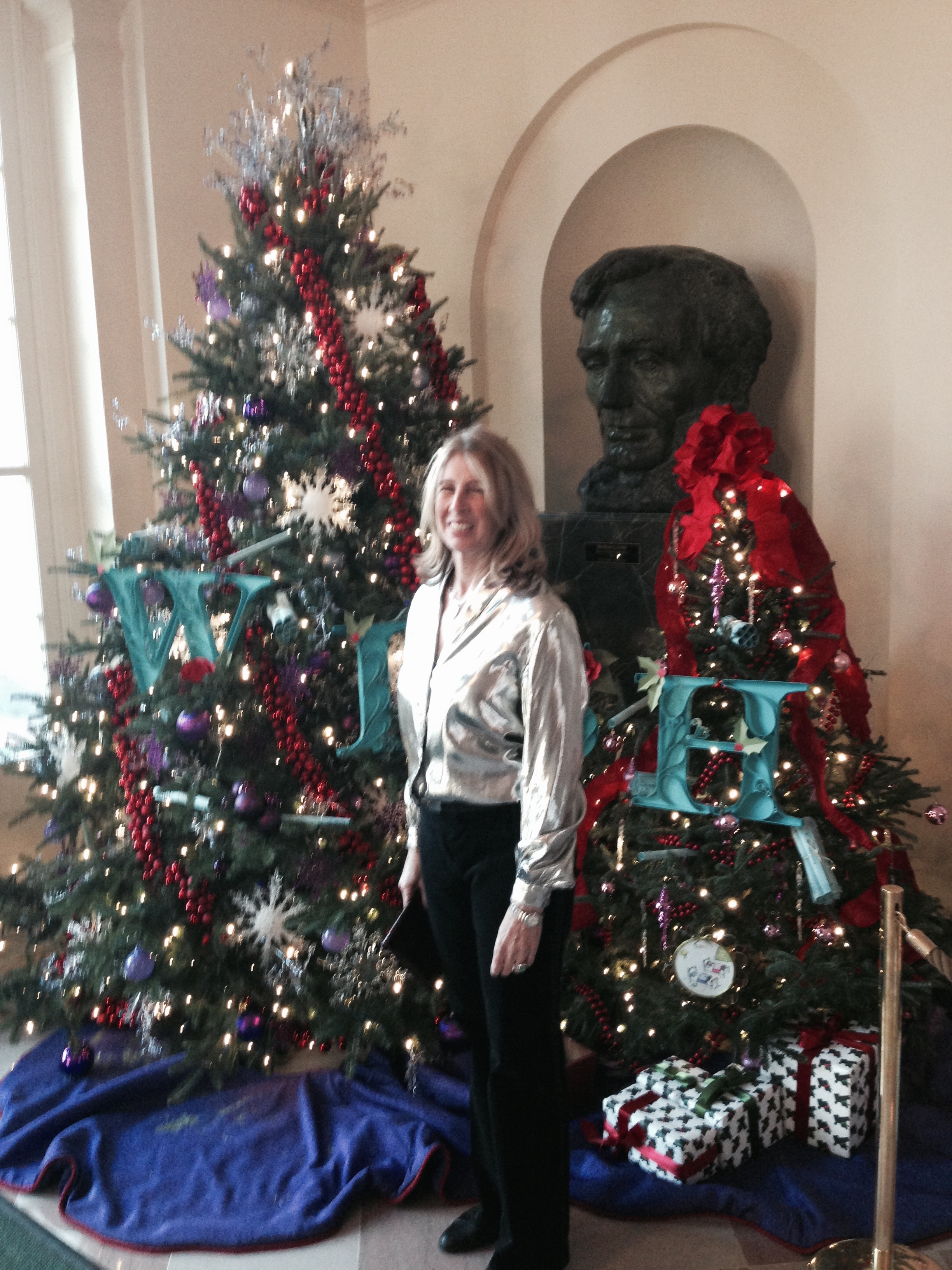 The rooms were alive with Christmas lights and fragrant fir trees.In the reception area, there was a long buffet table set with crystal, china and silver. The food, however, which had been prepared under kosher supervision, was not memorable, and the latkes were made of sweet potatoes and hard as stones.
In an adjacent gallery, I saw people crowding around a podium. There would be no reception line, I was told, but Barack and Michelle would appear at some point and speak. I turned away from John, who was talking to everyone he saw, and hurried to stake out a place as near the podium as possible. And waited. A half hour, then another hour. No Obamas. People were pressing against me from all sides, and there were hot lights for the TV cameras.
I've been struggling with vertigo since May, and standing in a dense crowd with hot lights was making me so dizzy I thought I would faint. But I feared that if I left, Obama would appear the next moment.
Finally, he walked out, looking glamorous and exultant, along with Michelle, wearing a dramatic chartreuse and blue dress.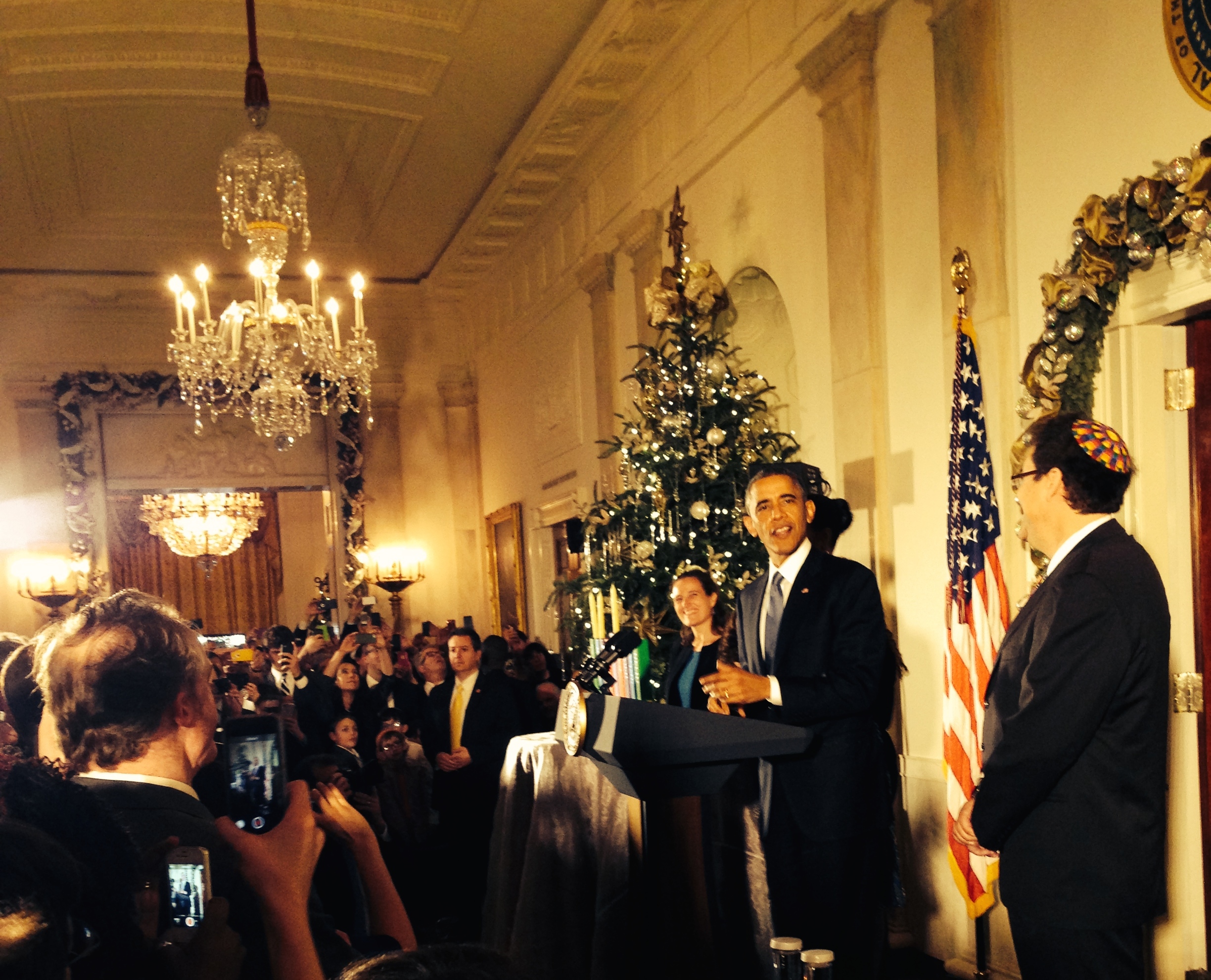 The President said, "I want to begin with today's wonderful news! I'm told that in the Jewish tradition, one of the great mitzvahs is pidyon shvuyim (the redemption of captives). And that's what we're celebrating today." He spoke of Alan Gross, a contractor who'd been held in a Cuban prison for five years and just been flown back to the U.S.
Obama related the Hanukkah story of the Maccabees, who fought to regain Jerusalem and the temple, where a small vessel of oil burned not just one night but for eight. "The story teaches us that our light can shine brighter than we could ever imagine," he said.
The White House had commissioned a menorah to be created by Jewish and Arab students at a bilingual school in Jerusalem. Two girls from the school lit the candles, while a rabbi led everyone in singing the Hebrew blessings.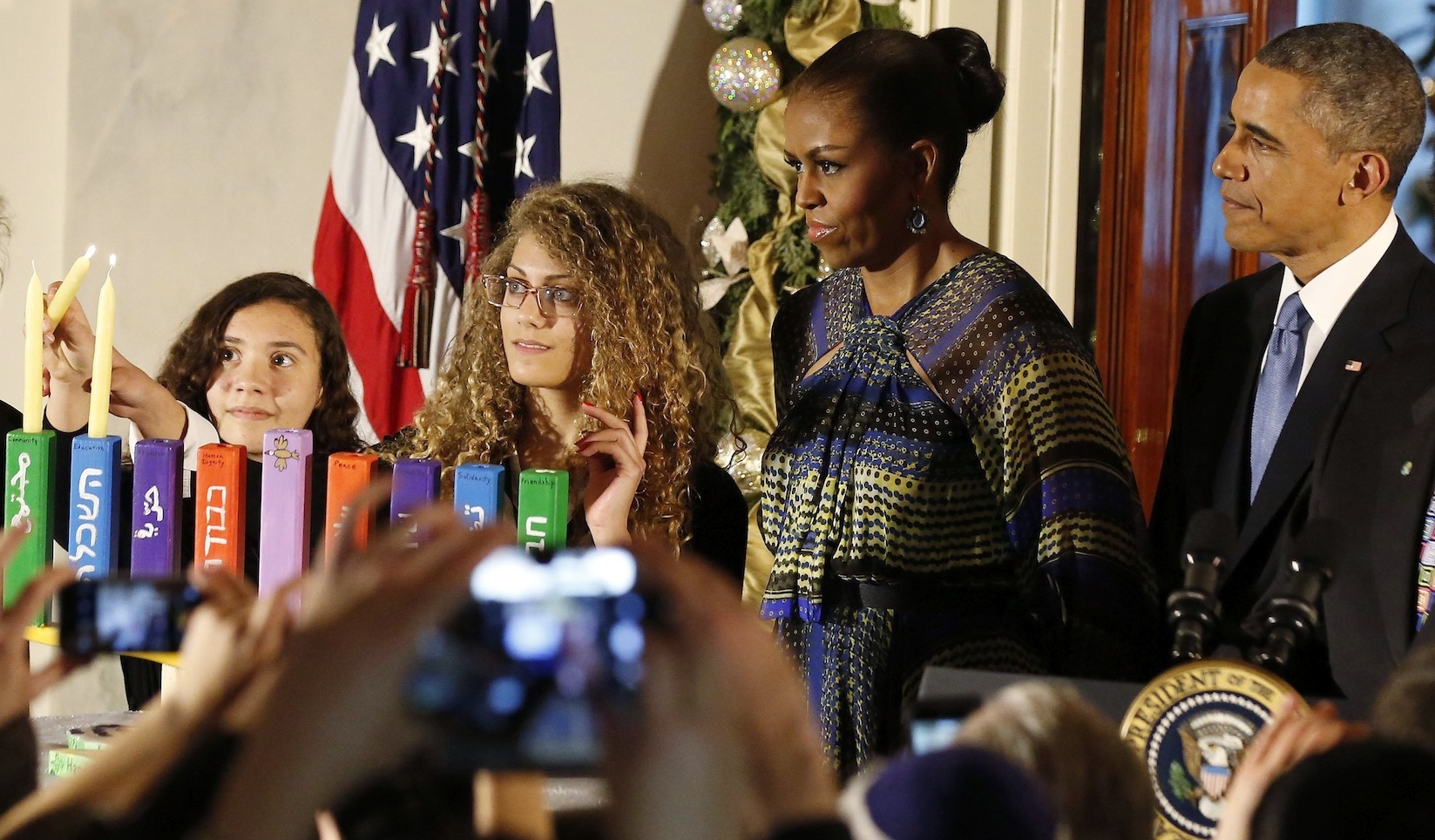 Afterward, I found a quiet table in the reception hall and just sat there, recovering my equilibrium. John found me and said he'd been texting me, but I must not have heard because of the crowd. He stared at me a moment. "I gave the President the cigar."
What!
John had worked his way toward the rope line where Obama was shaking hands after speaking. Because he's tall, John held the long cigar over the heads of the crowd, pointing it at Obama.
"Mr. President," he shouted, "A Cuban cigar for you."
The president spotted it, reached for it, then ran it under his nose and said, "Pretty good!"
A man standing nearby captured it on video, and while I was riding the train back to New York, John was working his contacts, emailing the video to a friend of his daughter, who works at ABC News and posted it on their website. In no time, John's cigar was all over the Internet.
As I sat back in the train and reflected on the day, what struck me was how strange and wonderful it was to hear the Hebrew blessings I'd learned as a child ringing through the most hallowed and powerful house in America. And how my parents and grandparents—who'd fled persecution in Hungary and Russia—would have felt standing there beside me. The thought filled me with warmth and joy.
Happy holidays! And may something unexpected and delightful come to all of us in 2015