This is Part 5, the conclusion of a series about the time I spent in Cuba not long ago. To see all posts in chronological order, Click HERE.
The last place our group visits is Baracoa, a small town with old world charm, at the very eastern tip of the island. It's where Columbus landed, and at Our Lady of the Assumption church, they have the cross he allegedly planted in the sand. Our guide, Liliana, tells us that the first land deed Castro signed over to a campesino was in Baracoa. "He started giving land back to the people at the same place where the Spanish colonizers started taking it."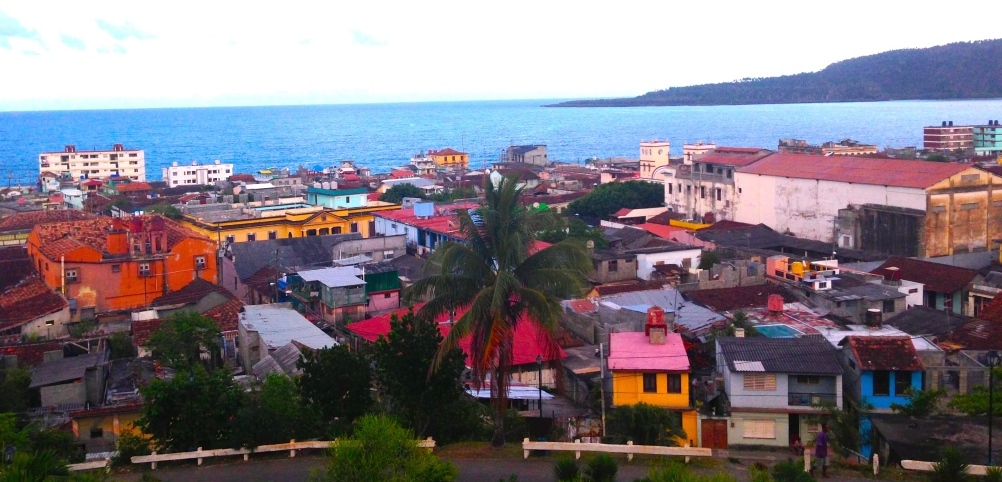 Our hotel, the Castillo, feels like paradise, especially after some of the ones we've stayed at that had threadbare sheets, scratchy towels, lights that don't work and only a trickle of water dripping from the shower. The Castillo sits on the highest hill in town, has a sparkling clean swimming pool, and rooms that look out on water in two directions—the Straits of Florida and the Atlantic.
I wander through the streets of pastel houses with decorative iron grillwork. Horses are pulling carriages, and people are eating pizza they buy for a few pesos from a window in someone's home.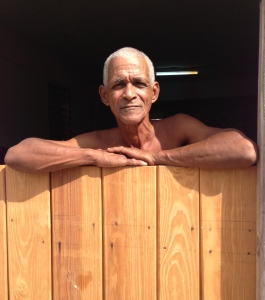 It's hotter and more humid than anywhere else we've been, and in no time, sweat pours down my face and chest. I climb back up the hill to our hotel to take one of the four showers I'll have today. I didn't bring any tank tops or shorts, since I've stopped wearing such garments, so I put on a black sports bra and tie a thin sarong from Hawaii around my chest as a dress. I'm showing as much skin now as Cuban women. Can't beat 'em, join 'em.
There's a lively artists' colony in Baracoa, and I visit the studio of Roel Caboverde, who paints Cubans in a style that incorporates cubism and expressionism, exaggerating the hands and eyes.  His work is so much in demand internationally that he has little in his studio to buy, or I'd have brought a painting home with me.
My one disappointment on this trip has been that no one in our group wants to go out at night to hear music or dance. So I've taken to going alone. I show up at matinees around 5 p.m., take a seat and in minutes, someone, usually younger than my son, escorts me to the dance floor. Everyone dances—from those so old they can barely make subtle movements to six-year-old girls who know how to shake it.
I feel sultry, juicy, but wonder if I look like my mother did when she took up square dancing in her 60's and flirted with her partners.
On our last day, we drive back to Holguin, where we'll catch a charter flight to Miami. I know that as soon as the wheels touch down, emails will start flooding into my phone and I'm dreading it. I don't want to be ensnared again, after being in a country where everybody's unplugged.
I think back to the last matinee I attended in Baracoa.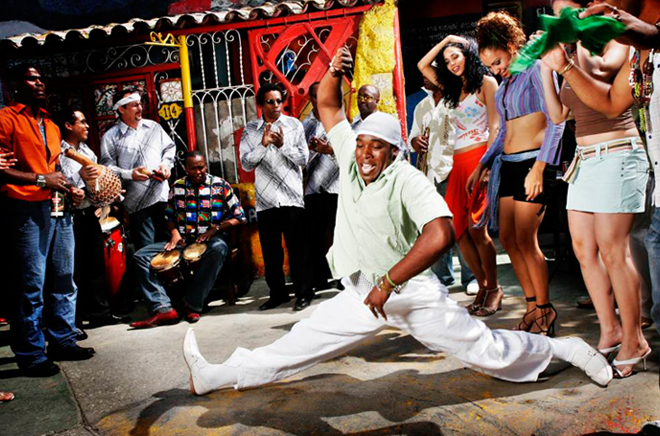 A young man who was a head shorter than me was the first to ask me to dance. When the song ended, he said his friend wanted to meet me also. The friend had Rasta dreadlocks and was the best dancer yet. As he spun me around the floor, my sarong slipped down to my waist, leaving me in the sports bra with a bare midriff but no one seemed to pay any mind. I felt unfettered and alive. I'd arrived in Cuba feeling my currency had been spent, and was leaving with the knowledge that I still have untapped reserves.
As the music grew louder and faster and the matinee drew to a close, I confess: Reader, I led everyone on the floor in the limbo.