In 1961, 200,000 Cuban students—half of them girls—volunteered to leave their city homes and go live in remote villages to teach adults to write their names and read.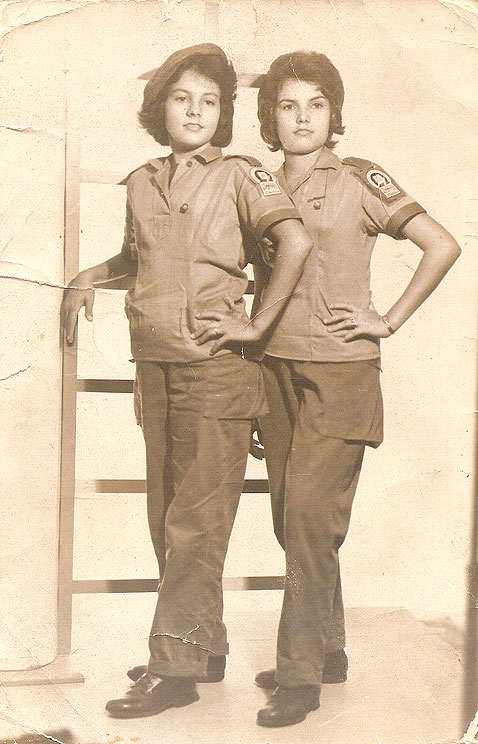 Girl volunteers
I learned about this when our group visited the Moncada Barracks in Santiago de Cuba, the  place where, in 1953, Fidel, who was 25, and his younger brother, Raul, staged their first armed attack, on the second largest military barracks in the country. Fidel had 120 rebels in a caravan of cars, but the cars got separated and the one carrying the heavy weapons got lost. The men who did reach the barracks started firing too soon and were outnumbered ten to one. They lost the battle and 61 were killed, but the revolution was on.
As we tour the Moncado Barracks, now a museum, I stop before a wall on which is written: "Every revolution has 3 phases: conspiracy, insurrection, and ultimately, the phase where it truly begins. Here was born the liberty of Cuba."
Below are large black and white photos of the faces of the 61 killed. They're so young—the average age is 18. Each has a unique expression, with singular eyes and set of mouth. I look at each face, sounding out the young man's name. I can imagine what they felt: the rightness of their cause; the passion to transform an illiterate, poor country into a society where every person would learn to read, have free health care, education, housing and a job.
It was this passion, I suspect, that spurred so many Cuban teenagers, after Fidel triumphed in Havana, to take a year off school to go teach campesinos to read.
And it came to me: if I'd been a Cuban in my teens or 20's at the time of the revolution, I probably would have been with Fidel.
That evening in Santiago, we're invited to the launch of a book that our tour leader, Trish, helped publish, at the Cuban Union of Intellectual and Creative Artists. As the author speaks, I take notes on my iPad. After the talk, an unusually tall Cuban man in the audience, about 50, walks up to me before I can stand and asks what I'm writing. He says he's a journalist for a local paper, and his name is Charles Dickens Romero-Lopez. I ask how he got that name. "My father is a writer and loves Dickens," he says.
There's merriment and mischief in his eyes, as we begin to debate the merits of Dickens vs. George Eliot and Cervantes vs. Tolstoy. We commiserate about the state of journalism and publishing in Cuba and the U.S. We're both divorced, we learn, and have children about the same age.
"Are your kids named Garcia Marquez or Pablo Neruda?" I ask.
"How did you guess!"
"Truly?"
"No." He takes hold of my arm as we laugh.
I notice that our group is preparing to leave. Charles Dickens asks where I'm staying, and if I'd like to continue talking? I go to find Trish and ask if he can come back to the hotel on the bus with us, expecting her to say, okay. The stated purpose of our trip is people-to-people interactions. But she looks at me a long moment. "I'm not sure."
"What do you mean?"
"You don't know who you're talking to in Cuba. He wasn't on the guest list of people we invited."
Chastened, I say goodbye to Charles Dickens and we exchange contact information, although I don't imagine we'll ever speak again.
That night, I'm jarred awake at 4 a.m. by a loud ringing sound. Disoriented, I try to figure where it's coming from. As the ringing continues, I turn on a light and trace the sound to an old-fashioned rotary phone in a corner. I haven't used a phone since I've been in Cuba and hadn't noticed there was one in the room, and then it stops ringing. My mind races. You don't know who you're talking to in Cuba. That afternoon, we'd met with a district official and I'd asked my perennial question: "Is Cuba's government changing?" Irritated, he snapped, "There are things that will never change. The political system—socialism—will not change." He pointed a finger at me. "The government can't provide everything, especially during a financial crisis." Later he'd asked Trish why I was taking notes. She took me aside and suggested I be more discreet.
I lie awake, worrying, am I being watched?  Was Charles Dickens a government plant?  I have a friend in New York, a writer, who went to Cuba after the revolution to teach, and was arrested, accused of being a spy, and imprisoned for 18 months. If I should be carted off to jail, nobody would know where I was or what had happened, and there's absolutely no one I could call for help.
The only way I can calm myself to sleep again is with the thought that if that happened… I'd have a hellacious story.
TO BE CONTINUED….
This is Part 4 in a series about the time I spent in Cuba just before President Obama announced that relations between our countries would be normalized. To see all posts in chronological order, Click Here.