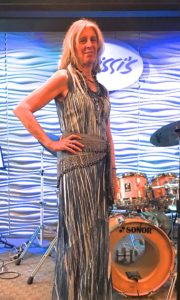 My singing group, Spirit Voices, recently celebrated the 50th anniversary of the Summer of Love, with a concert at Nissi's night club in Colorado. I'm the oldest member of the group, and the only one who, in 1967, spent time in both the Haight-Ashbury district of San Francisco and New York's Lower East Side–the twin poles of psychedelia. I was a reporter for the Boston Globe, my first job, and because I was in my early twenties, they sent me out across the country to report on what we called the counter culture.
Over the years, the hippie movement has been trivialized, but in first bloom, it carried a sense of hope, joy, wild playfulness, and the promise of a new order based on sharing, equal rights, ending war, spiritual uplift and, above all, love. Naïve? Sure, but at the time it was sincere and we really believed we could achieve it.
Danny Goldberg, a former hippie who became a record company president and ACLU board member, just published In Search of the Lost Chord: 1967 and the Hippie Idea.
1967 was a "moment," he writes, "when `peace and love' was not meant or taken ironically."
Goldberg says that among his peers, "there is a near universal recollection of a period of communal sweetness… of tribal intimacy one could have even with a stranger."
He describes how, as a newly minted "head" or hippie, in his first term at Berkeley, he'd gone to the airport barefoot to take a plane home for Christmas break.But they wouldn't let him on the plane barefoot.
Bummer. No time to go back and get shoes or find a shoe store. He looked around the waiting area for another "head," spotted a guy with long hair, explained his predicament and asked to borrow some shoes. The young man did not hesitate to dig shoes out of his knapsack. Looking back, Goldberg can't decide what's more remarkable: that the guy gave his shoes to a stranger, or that Goldberg had no doubt that he would.
Whether you were a head, a weekend hippie, or a politico, of if you were just young and alive and breathing, what bound us all together was the music. In 1967, there was an outpouring of musical creativity like nothing I've seen in the rest of my life.
This was the year the Grateful Dead, a local band who lived in Palo Alto, released their first album, introducing them to the nation. The same was true for Janis Joplin with Big Brother and the Holding Company, Sly and the Family Stone, Jimi Hendrix, and the Doors. I met my husband that summer and what I remember is lying on the unmade bed in my apartment, whose air conditioner was worthless, listening to the extended electric piano solo by Ray Manzarak that spirals up and down until it can't go higher or become more intense until Jim Morrison comes in to sing, "The time to hesitate is through…."
It was the summer of the first rock festival, Monterey Pop, which featured, among others, the Dead, the Airplane, Janis Joplin, Simon and Garfunkel, Otis Redding, Pink Floyd, Sly Stone, the Mamas and the Papas, Jimi Hendrix, Ravi Shankar and the Who. Can you imagine? Many of them were still unknowns.
It was also the summer the Beatles released Sgt. Pepper, which upended the musical universe. A few days after its release, I ran into a friend who was a classical music maven and looked down on rock as an inferior form. He said he'd just had a "life transforming" experience. "I spent four hours playing Sgt. Pepper." Eyes glazed, he told me, "I am blown fucking away."
Fifty years later, as my group of 22 women prepared for the concert, the big question was: "What would we wear?'' Our leader extraordinaire, the musician, composer and teacher, Janis Kelly,suggested we dress in hippie style.
Many had never seen actual hippies, so they trolled the internet and found "hippie clothes" that were fabulously colorful but did not look authentic.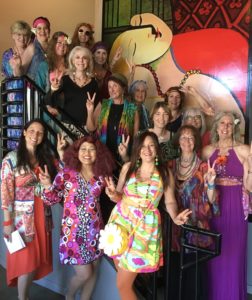 Thinking back, I remembered that my go-to outfit then was bell-bottom jeans pulled over a purple short-sleeve leotard. My hair fell nearly to my waist, and I straightened it by applying Dippity Doo and wrapping the hair around and around my head, securing it with clips, so the head served as a giant roller. My self image rose and fell with how well my hair looked–frizzy, unruly, sleek? Goldberg, whom I'd just met then, told me that men with long hair felt the same way.
When I wanted to look fancier, as I did when I went to Copenhagen to report on the Rolling Stones' European Tour, I wore a nightgown of two-tone lavender jersey that hung to the floor, believing it would pass as a maxi-dress.
I bought clothes at unisex stores, where, in the next dressing room, a young man might be trying on the same jeans, shirts and belts that I was trying. The sales clerks were hot-looking guys who were happy to give you their opinion. Like: "Man, if I saw you in those pants, I'd want to ball you." (This was before women's lib came rolling out in '68, and such opinions became fighting words.)
When we took to the stage at Nissi's, we began with "Aint no Mountain High Enough," then the Mamas and Papas' version of "Dedicated to the One I Love," and after a half dozen more hits, closed with "Higher and Higher."
I can't hear that song without remembering an image from a party I went to around that time, in Tiburon, just north of San Francisco. Word had gone out that the party would be at a luxurious home with a pool and decks looking out on the ocean and the Golden Gate Bridge. The owners were away… And this party was for "the people." More than 200 showed up on a Saturday morning and stayed till dawn on Sunday. The hosts had set up a killer sound system and, over and over, they played Jackie Wilson singing "Higher and Higher."
"The people" were getting higher and higher, jumping up and down, waving their arms in the air, reaching for the sky. And every single one of them… was naked.
You can WATCH an amateur video of our group performing "Higher and Higher," with clothes. It's hard to hear our voices, so crank up the sound and you'll get the idea.
I also recommend listening to the show Terry Gross did about the re-mixing and re-release of Sgt. Pepper this year, interviewing Giles Martin, who led the project and whose father, George Martin, was the Beatles' producer.
More good news: Janus Films is releasing an enhanced 4K version of Monterey Pop, the legendary documentary by D.A. Pennebaker.
We'll be singing at other venues in Colorado. On Saturday, July 15, at 7pm, we'll be at Deviant Spirits in Boulder. If you'd like to join us in dancing and celebrating, please email leap@saradavidson.com and we'll send you details of other shows.
PLEASE LEAVE A COMMENT, like: Where were you when you first heard Sgt. Pepper? Or, what article of clothing would you like to retrieve from that time?