The man I married when I was 24 and divorced at 30, a high-powered celebrity whom I'll call Robert, was fired recently for inappropriate sexual behavior.
My first reaction was a pulse of schadenfreude: he was due for this. I'd been waiting for the shoe to drop since the onset of the #Metoo movement. He'd been sexually aggressive since his teens, and when he'd been drinking, he was known to make advances that weren't always wanted. When a friend told me he'd stuck his tongue in her mouth when hugging her goodby… I'm ashamed to admit this, but I said, with a shrug, "That's just Robert."
After I saw his photo plastered across the Internet, and after that pulse of satisfaction, I felt sadness and concern. I had loved this man, we'd built our careers alongside each other, and shared deep intimacy. He believed in me, in my writing, he consoled me when I was hurt, and he rooted for me—he was a fierce advocate. He had my back, though he often went behind it. He had a gift for covering his tracks by making up detailed stories that sounded so plausible and sincere that people believed them. And yet, he understood me, I felt, as no man ever had.
Confusing? You bet.
That's because we're dealing with the intricacies and contradictions of the heart, and with the deep and often treacherous river of sexual urges.
Let me be clear: I believe that anyone who forces himself sexually on another human should be held accountable. I stand with those who wore all black to the Golden Globes. And I also believe the punishment should fit the crime. But how is this possible, when behavior is not black or white but falls along a continuum? At one end is the rapist/serial predator, and at the other end is the obnoxious flirt.
As Claire Berlinski writes in the American Interest, "We are on a frenzied extrajudicial warlock hunt that does not pause to parse the difference between rape and stupidity. The punishment for sexual harassment is so grave that clearly this crime—like any other serious crime—requires an unambiguous definition. We have nothing of the sort."
This is dangerous for both genders. Men who've been tried in the court of public opinion—for everything from forced cunnilingus to giving an unwanted neck-rub—have had their careers and lives destroyed. Women who've come forward are risking a backlash that is sure to come, as night follows day.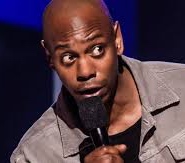 Dave Chappelle warns, in a comedy special, The Bird Revelation: "You got all the bad guys scared, and that's good. But the minute they're not scared anymore, it will get worse than it was before. Fear does not make lasting peace."
Do we want to move toward a society where men are scared to be alone with a woman at the office? A society where women who'd like men to be assertive in the bedroom find themselves with partners who're afraid to take that role?
In the early days of the Women's Movement, Nora Ephron wrote that while she campaigns for the liberation of women, in her erotic fantasies, she wants to be ravished. She daydreams of men who rip off her clothes and carry her to the bed.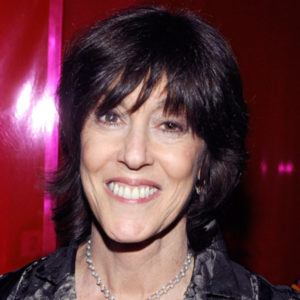 Another feminist, Sally Kempton, now a spiritual teacher, wrote in Esquire, "It is hard to fight an enemy who has outposts in your head."
So… How are we to proceed in the post-Harvey Weinstein era? What troubles me is that none of the cases in the headlines (and probably none of the ones we haven't heard about) has been adjudicated openly. In no case has the accused been able to speak to his accuser in a safe setting. Daphne Merkin writes in the New York Times, "To be accused is to be condemned. There is nothing like due process."
If the drive to punish sexual harassers is carried to extreme… If, for example, the works of every painter and sculptor who harassed women during his lifetime were expunged from museums, who would suffer?
What if we could set up the kind of Truth and Reconciliation process that helped people in South Africa, Ireland, and Rwanda move forward after prolonged violence and human rights abuse? When South Africa created the Truth and Reconciliation Commission in 1995, Nelson Mandela said the question was: "Can we forgive the past to survive the future?"
Victims gave testimony and perpetrators could also give testimony and request amnesty from prosecution. Consideration was given to the weight of the crimes committed. Reconciliation and "restorative justice" were the goals.
Even before the #Metoo movement, individuals have attempted to do this privately. In 2016, Thordis Elva from Iceland and Tom Stranger from Australia gave a talk at Ted Women,* "Our Story of Rape and Reconciliation."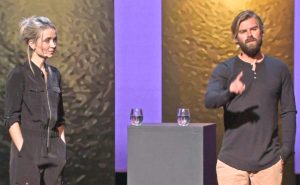 They'd met at age 16, when Stranger was an exchange student in Iceland. They fell in love, became inseparable, and at a party, Elva had too much to drink, grew nauseous and wobbly, fading in and out of consciousness. Stranger took her home, removed her clothes, put her in her bed and penetrated her. She was too weak to resist and recalls it as painful and traumatic. She did not speak to him again, and, humiliated, locked the experience inside herself and told no one.
Nine years later, she wrote him a letter, he wrote back, and after months of emailing, they agreed to meet at a location between Iceland and Australia—Cape Town, South Africa. "The city was a powerful place to focus on reconciliation and forgiveness," Stranger said.
Elva says that at first, she wanted revenge, "to hurt Tom as badly as he'd hurt me. When the plane landed, I thought, why didn't I just get myself a therapist and a bottle of vodka, like a normal person?"
For a week, they told each other their life stories and analyzed them. The ground rules were that they had to be honest, had to listen to the other with open minds, and had to stick out the week.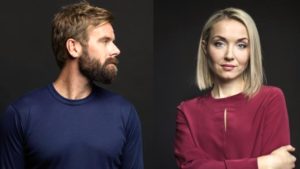 "At times our search for understanding felt impossible," Elva said. She wanted to give up and go home to her husband and son, but by the week's end, they had a "victorious feeling," Stranger said. "I had to accept that I did hurt this wonderful person. That I'm part of a large group of men who've been sexually violent toward their partners." They created their Ted Talk to demonstrate that "something constructive could be built out of the destruction."
In our country, the healing might begin locally, with a forward-thinking company or community setting up a truth and reconciliation commission. Accuser and accused could speak to each other, with mediators present, and, most important, listen to the other. If a man concluded, as Stranger did, that he had caused harm, he could make amends.
Todd Hixon, writing for Forbes, suggested community service or "a hefty donation to an organization…that's working to stop these crimes from happening in the first place." Hixon added, "Maybe Kevin Spacey could make a monthly contribution to Lambda Legal (a non-profit that supports LGBT people)— a constant reminder to him and others that he acknowledges his guilt and wishes change."
Unrealistic? What, then, could be the road to peace in this arena—which won't be attained, as Chappelle says, by fear?
Please weigh in with your ideas. CLICK HERE.
* *
I'll be writing more on this. NEXT: The Men Speak.
* *
If you're in Colorado, I'm singing with a band at two concerts on January 26 and 27, at 7 pm, in Boulder. With a sublime pianist, two singers, guitarist and drummer, we do uplifting pop, rock and soul covers of works by Jason Mraz, Aretha Franklin, Beatles, John Mellenkamp, James Taylor, and others. Awesome harmonies, and after the concert, we'll have a rousing singalong. If you'd like to come, please respond to leap@saradavidson.com for directions.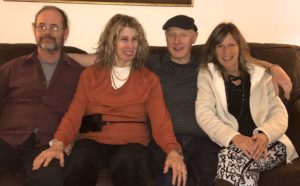 * Note that this talk was given at a Ted Women Conference, not the major Ted Conference, in 2016. Apparently rape was still considered a women's issue.