Can CBD curb your appetite? Quash anxiety? Protect your heart and brain? Anecdotal evidence for these and other health benefits has created a surge, a potential tsunami of demand for CBD products. While the FDA recently declared CBD an illegal, Schedule 1 drug, it's being sold in states where medical cannabis is legal, and some companies are shipping it across state lines.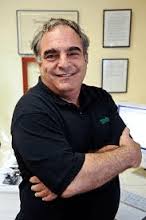 I'd been hearing about the healing properties of CBD for years, but I had not heard that it cuts your appetite until I spent time with Dr. Allan Frankel, a renowned internist in Los Angeles who's one of the country's pioneers in "dosed cannabis medicine."
Frankel, 66, who's short and energetic with impressive dark eyebrows, has paid a price for cutting this path, but he's paving the way for rigorous, professional medical treatment using cannabis.
Most of the four million medical marijuana patients in the U.S. get their license recommendations from a doctor they never see again. Continue reading →