Ram Dass was working on his new book, Be Love Now, written with his longtime friend, Rameshwar Das, when a letter arrived from a stranger: "I believe you may be the father of my older brother."
What?! Ram Dass dismissed it at first, thinking, "Someone's trying to hustle me." A world-renown spiritual leader, Ram Dass was formerly Richard Alpert, the psychology professor at Harvard who was fired with Timothy Leary for experimenting with LSD. He's bisexual with a preference for men, has never wanted children and teaches that spiritual love is of a higher order than personal love. He famously said, "If you want to see how enlightened you are, go spend a week with your family." Having a son—if true—would challenge his beliefs about love.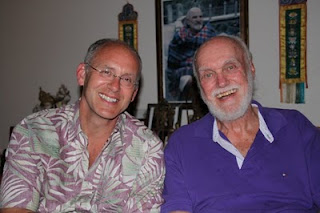 Peter Reichard with Ram Dass
Two weeks after the letter arrived, a friend of Ram Dass offered to check it out. He spoke with the putative son, arranged for DNA tests and the results came back in October of '09: Ram Dass is the father of Peter Reichard, a 53-year-old banker in North Carolina who'd never heard of Ram Dass and was raised with no religion.
When I heard the news, I was shocked. What would the son of Ram Dass be like, and how had this come about? I spoke with them both and learned that Peter was conceived in 1956, when there was no birth control pill and DNA had not been discovered. Alpert, then a lanky grad student at Stanford, had a brief affair with Karen Saum, a feisty and beautiful history major who was planning to marry another man, living in New York, whom we'll call Hans. She and Hans had agreed to have an open relationship until they began their life together.