Just survived the second fire in Boulder in 2 months. This was much more painful for me personally than the last fire. The last one was way bigger and lasted longer, but that time, I only had to prepare to evacuate. This time, the fire fighters went door to door making sure we got out as fast as possible. I ran around for 45 minutes shoveling things into boxes, and trying to catch my cat. It took three firemen to corner her and stuff her into her carrier, scratching and squalling .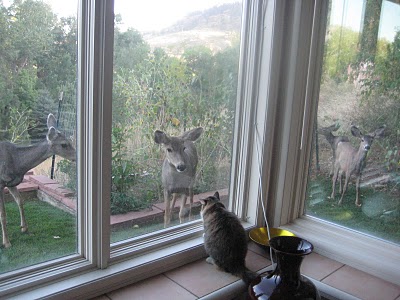 My cat watching deer from my office window, before fires
By the time I got to my friend Tina's house, I was soaking wet, panting, and zonked on adrenaline. I couldn't think straight. Luckily, I'd made a list of what to take with me after the last fire and tried to follow it, but: I took my computer but not the electric cord for it, took my printer but none of its cords. Grabbed all the jewelry and threw it in a box, and it's now tangled beyond recognition.
The next morning, I woke up with cuts all over me and a terrible back ache. With adrenaline going, you don't feel pain, and I was shocked to see blood on my legs and shoulder when I got undressed for bed. I lifted things I ordinarily would never try to lift. Bumped and slammed into things and felt nothing. Several friends tried to drive up to help me pack and load, but they couldn't get past the fire barricades, so I was on my own. The closest I got to hysteria was when I couldn't get the cat. I was the last to leave the neighborhood, and the fireman went for the cat so they could get us both out.
Today I'm putting everything back in order. Grateful the house is untouched and I'm okay. A sweetheart of a guy gave me a massage last night, which was the first time in 48 hours that my body let down and let go. For the first 24 hrs, it looked like the house would burn to the ground. My insurance agent had opened a claim. Another reminder – nothing is certain, we have little control over major things. Every moment is all we have. Spread the love.