In 1961, 200,000 Cuban students—half of them girls—volunteered to leave their city homes and go live in remote villages to teach adults to write their names and read.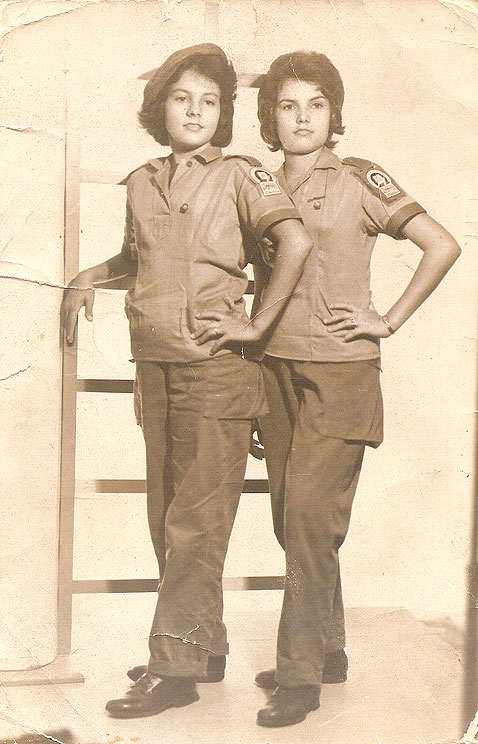 Girl volunteers
I learned about this when our group visited the Moncada Barracks in Santiago de Cuba, the  place where, in 1953, Fidel, who was 25, and his younger brother, Raul, staged their first armed attack, on the second largest military barracks in the country. Fidel had 120 rebels in a caravan of cars, but the cars got separated and the one carrying the heavy weapons got lost. The men who did reach the barracks started firing too soon and were outnumbered ten to one. They lost the battle and 61 were killed, but the revolution was on.
As we tour the Moncado Barracks, now a museum, I stop before a wall on which is written: "Every revolution has 3 phases: conspiracy, insurrection, and ultimately, the phase where it truly begins. Here was born the liberty of Cuba."
Below are large black and white photos of the faces of the 61 killed. They're so young—the average age is 18. Each has a unique expression, with singular eyes and set of mouth. I look at each face, sounding out the young man's name. I can imagine what they felt: the rightness of their cause; the passion to transform an illiterate, poor country into a society where every person would learn to read, have free health care, education, housing and a job.
It was this passion, I suspect, that spurred so many Cuban teenagers, after Fidel triumphed in Havana, to take a year off school to go teach campesinos to read.
And it came to me: if I'd been a Cuban in my teens or 20's at the time of the revolution, I probably would have been with Fidel.