This is Part 1 in a series about the time I spent in Cuba not long ago. To see all 5 posts in chronological order, Click Here.   
I heard music—guitars and maracas—coming from a baby blue building in Baracoa, a small town at the Eastern tip of Cuba, where Columbus first landed on the island. Looking through the door, I saw a four-piece band on a wooden dance floor, with several couples doing a provocative salsa and others sitting in metal folding chairs.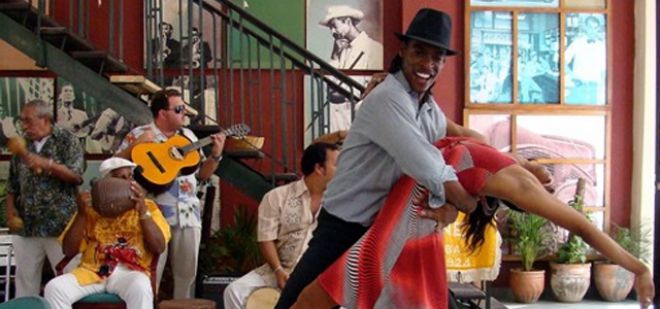 I sat down, alone, intending just to watch. I'd recently come to the realization that I'm at the age where I'm invisible. When I walk along the street, no one looks at me, especially not men, and if their eyes accidentally do meet mine, they carom away like billiard balls cracking off the table rail.
I'd no sooner settled in my chair, however, than a man wearing an orange shirt and a shark's tooth necklace asked me to dance. I hesitated; he looked younger than my son and I hadn't done any Latin dancing in years. But he stared straight in my eyes, smiling, and moved me about the floor with such assurance that I was soon dancing better than I thought I could.
This was Cuba, where, I'd been told, "Men learn to dance in the crib. It's genetic."