Part one of a two-part blog
"The worst trips make the best reading," Paul Theroux, the vaunted travel writer, says, because they're stories of survival.
When people ask about my recent trip to China, I say, "It was the best of trips and the worst of trips." Spending time with my son, Andrew, who lives there, was enriching and delightful. But we experienced the biggest travel disaster I've known.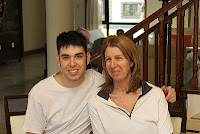 Mom and Son
Andrew had gone to China right after graduating from U.C. San Diego. He'd planned to spend a year learning Mandarin, then come home and get a joint business-law degree. Sight unseen, he picked out a language school on the Internet in a city he couldn't pronounce—Shijiazhuang—that had 9 million people but only a hundred foreigners. He chose that school because it offered four hours of one-on-one instruction every day, which is critical when you're trying to learn to make sounds like qi and xie.
That was six years ago. He fell in love with China, and with a beautiful and vivacious young Chinese woman, made numerous friends and was welcomed into the city's business community. He started a Chinese internet company devoted to photography lighting, and found he could lead a very good life—four bedroom apartment, car and driver and a maid who cooks and cleans 7 days a week—for a fraction of what that would cost in America.