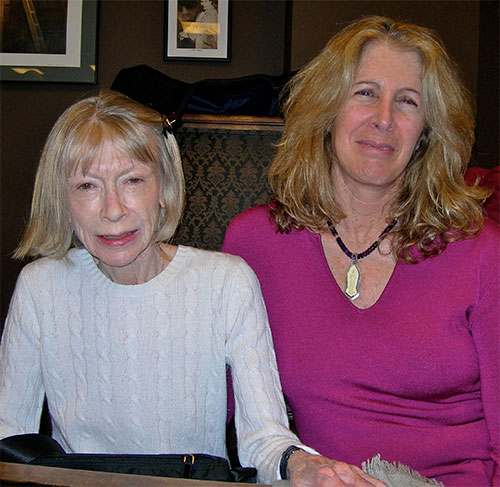 About the Book
In 2011, Byliner.com began publishing works of quality nonfiction that were longer than a magazine article but shorter than a book. They commissioned me to write about Joan Didion, and it became the number one rated Kindle single by readers on Amazon.com
Excerpt
In this excerpt, Davidson describes a dinner party Joan and her husband, John, gave in the '70s at their beachfront home in Malibu.
I drove out early to help Joan get ready. I was living in Venice, California, and often spent the night on the convertible sofa in Joan's writing room. When I arrived the day of the party, she'd already cooked enough food for sixty people: Mexican chicken, her signature dish, which was chicken shredded and simmered with tomatoes, onions, peppers, and spices and served with handmade tortillas and elegant bowls of sour cream, avocado, salsa, and cilantro.
We arranged her orchids and oil lamps about the rooms. When everything looked as she wished, Joan, John and I went to get dressed and then gathered in her study. Wearing a rose-print batiste dress (one of a matching pair she'd bought for Quintana and herself in the children's department at Bonwit's), Joan lit a Pall Mall. "We're ready for the party," she said, adding that she was always nervous before dinner was served. Hired help arrived to tend bar and set up the buffet, and I remember Joan and I discussing what we might wear under the filmy see-through clothes that were becoming popular in L.A.
An hour later, the great room and deck were overflowing with actors, writers, directors and producers, including Warren Beatty, who was in the middle of directing Shampoo, George Segal, Michael Crichton, Bob Rafelson and Bert Schneider, who'd teamed up to make Easy Rider and Five Easy Pieces, and Michael and Julia Phillips, who'd won Oscars for producing The Sting. Julia was the first woman to win the statue for producing and would later get divorced, dive into cocaine and write You'll Never Eat Lunch in this Town Again.
Warren Beatty was working the room, telling people he wanted to do some "gynecological detective work. I'm a combination gynecologist and detective." He took me aside and said he had a crush on Joan. "I want to see her fly."
I told him I'd arrived early and given Joan a massage. He looked puzzled. "A verbal massage? Is that what you mean?"
"A back massage."
His eyes quickened at the suggestion of touching her tiny, delicate back. He walked to where she was seated, pulled up a rattan Huey Newton chair facing her, opened his knees and pressed her knees between his. "This is it for me," he said. "This is all I want, right here. I'm happy."
Sitting down next to Joan, I asked, "For how long?"
Warren looked at his watch. "I don't have to be on the set until ten Monday morning." He looked straight in Joan's eyes and, with a smile that could melt an ice queen, pressed his knees tighter around hers.
She fidgeted. "This is not . . . "
She moved her hand in circles in the air. Her husband was not around to complete her sentence so she said, with a shy smile, ". . . feasible."
---
What You'll Learn about Joan
JOAN contains material never published before:
 Her recipe for a novel that "takes."
How to enter the "writing space" each day.
How losing a child is different from losing a husband.
Joan's evolution from a Barry Goldwater girl to a supporter of Democratic Gov. Jerry Brown.
How she came to Zen Buddhism.
Her response to the question:  Can she ever really bury the baby?
---
Endorsements and Reviews
Sara Davidson's charming and insightful Kindle Single, Joan, chronicles her 40+-year friendship with literary luminary Joan Didion. A fifth generation native of California, Didion was "raised to embody the qualities inherent in the Western code: self-reliance, optimism, not complaining… However, Davidson noticed that her friend's observance of "the code" changed somewhat, as did her approach to writing, after twin tragedies struck: Didion's daughter suffered a series of illnesses that left her in a coma (she later passed away from acute pancreatitis), and while tending to her, Didion's beloved husband, fellow writer John Gregory Dunne, died of a heart attack… I met Joan Didion at a book signing in May of 2011. She was gracious but elusive, and I left wondering about the woman behind this mask. Davidson's Joan gives an illuminating peek, and whether or not you're a fan of Joan Didion the writer, this Kindle Single will have you marveling at the extraordinariness of Joan Didion, the person.
—Erin Kodicek
Amazon.com
Readers' Reviews:
"I found so many great insights in these wonderful conversations between Joan Didion and Sara Davidson. Joan's thoughts on her long and successful marriage, the confidence it takes to be a writer (and a woman), how she deals with devastating loss, the letting go of control as one ages, are all resonant for me. Her relationship with Sara is so intimate, and Sara's writing so effortless, that I feel like I'm sitting with my wisest and closest friends talking about the things that matter most."
—Jill Eikenberry
"I've been a Joan Didion fan since college when Slouching Towards Bethlehem was required reading. This look however, goes somewhere new – into a meaningful friendship exposed and another dimension of Didion. It's so personal and so revealing and reminds us just how valuable these deep friendships are, how they are life-savers, relief-givers and a way to pass time in our lives with continuity and grace. Wonderful read. Buy it and send it to your best friend."
—MS Wally
"I read a bit just to get a feel of it, with something else waiting for me to do, but after a page or two I realized I might as well get comfortable because I wasn't going anywhere. You know 'real' when it is in front of you, and this is mainlining someone's life. With Sara D's own wisdom and wit as the curator, this is an intimate visit into the life of a remarkable woman. Reading 'Joan', you feel like you are suddenly PART of her life, it is that vivid.
—PJB