Radio
In 2000, Ruth Seymour, the general manager of KCRW in Santa Monica, California, asked if I wanted to conduct interviews for a program called "The Politics of Culture." From the first interview, I fell in love with the medium, and began to develop techniques for what I call "The art of the interview." A great interview tells a story, and there's a point when you hit gold — the subject starts thinking and saying things he or she hasn't said before. The interchange comes alive; it's as if the quality of the air changes, and the listener is reluctant to leave the car or turn off the set.
From KCRW, I went on to be the host of a pilot, "True West," produced by Laurie Selik for Marketplace Productions. I did commentaries for KPCC in Pasadena, and after moving to Colorado, I've continued to host interviews on KGNU in Boulder.
TV
I wrote my first screenplay with Ron Koslow, who'd just written the movie "Lifeguard" and would go on to write more films and create hit TV series like "Beauty and the Beast."   Our movie, "Wolfe and Rose," never got produced, but the experience launched my career in film and television.

In the Eighties, I created two drama series, "Jack and Mike," and "Heart Beat," which each ran on A.B.C. for one season. "Heart Beat" was the first ensemble of women who had no male boss above them, and featured the first lesbian character on television. It was set at a women's health center run by women doctors (inspired by a real medical group in Santa Monica), and explored their professional and personal lives.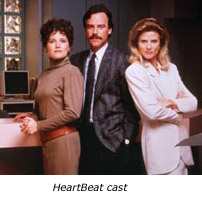 In the Nineties, I was head writer and co-executive producer of "Dr. Quinn, Medicine Woman," starring Jane Seymour and created by Beth Sullivan. The show is still running on cable, and episodes are available on DVD.