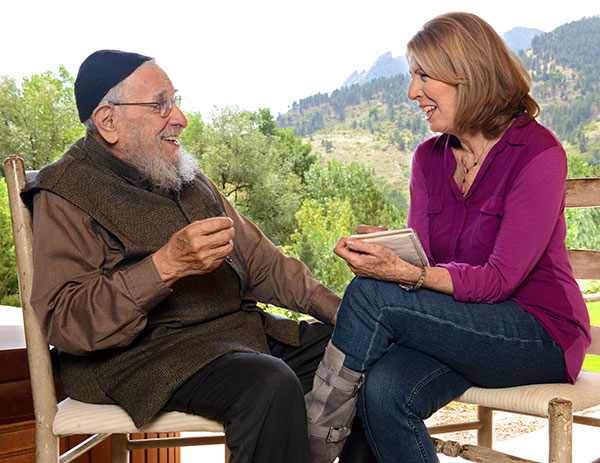 About the Book
When I began meeting every Friday with Reb Zalman Schachter-Shalomi, founder of the Jewish Renewal Movement, he knew I was a seeker who owned a skeptic's mind. My heart wanted to travel any road that might lead to truth or transformation, and my head would come along and point out cracks in the paving.
Despite years of meditation and spiritual practice, I feared that death would be a complete annihilation. Reb Zalman, by contrast, felt certain that "something continues."  He said he didn't want to convince me of anything.  "What I want is to loosen your mind."
Interspersed with our talks are sketches from Reb Zalman's life. He barely escaped the Nazis in Vienna, became a Hasidic rabbi in Brooklyn, then began seeking wisdom from outside his own community.  He took L.S.D. with Timothy Leary and became friends with Thomas Merton and the Dalai Lama.  He was married four times and had 11 children, one from a sperm donation to a lesbian rabbi. His aim in founding Jewish Renewal was to "take the blinders off Judaism," and encourage people to have a direct experience of God.
During the time we spent together, I was nearly killed by a suicide bomb and Reb Zalman suffered a steep decline in health.  We created strategies for dealing with pain and memory loss, and for cultivating fearlessness and joy—at any age.
---
Topics We Cover
What is the spiritual work of the December years, and how do we prepare for the mystery?
What inner work will help us glean every drop of joy and meaning from all our years?
Facing the fear of nothingness.
Dealing with physical pain.
What if you feel you're losing your memory and mental faculties?
Forgiveness—the most important skill we need to perfect, especially forgiving ourselves.
How intuition can be more important than thinking, and how to expand your intuitive capacity.
Practicing the art of letting go.
---
Excerpt
Midway through my sixties, I woke up in the middle of a June night and saw a comet streaking across a black sky. Bolting up in bed, I watched the fiery orb shoot from left to right, tracing the last third of a rainbow-like arc. It was not a dream—my eyes were open and everything else in my bedroom appeared as it normally does. Except for the comet. Was it a hallucination, a projection, a fragment of a dream leaking into my waking mind? I couldn't tell, but as I watched it burn down and disappear, I knew: that comet is your life, babe, and it's coming to the end of its trajectory. Are you spending your days the way you want to? A response rumbled up from deep within: NO.
In that season—the autumn of life—I was spending the majority of my hours in front of the computer. Most nights, I would have to forcibly push myself up from the desk chair to go to sleep. In the morning, the first thing I did was walk, still wearing my nightgown, to the computer and check e-mail. I had too many balls in the air, too many items on a list that never grew shorter, too much busyness and too little being accomplished. I wanted to play music, have a more robust social life, mentor young people, spend more time in nature, and connect with a man who could be a full partner. I was, instead, having a long-distance relationship with someone who measured out our time together with coffee spoons.
I fell back asleep, consoled by the thought that the next morning was my regular Friday visit with Reb Zalman.
---
Reading and Study Group Guide
The aim of The December Project is to address your concerns and feelings about mortality; prepare you for the ultimate letting go; and enable you to find meaning, fearlessness and joy in all your days.
If you'd like to take up The December Project, there are 12 exercises at the back of the book.  You can do them alone, with another, or with a group.
Before beginning, you may want to consider and discuss these questions:
When did you first grasp the reality that one day you would die?  How did you feel?
Who was the first person close to you who died?  How old were you, and how did it affect you?
Do you think the brain is capable of conceiving of its own demise?
Who has been the most important guide for wisdom in your life?
With whom are you able to discuss life's deepest mysteries?
Do you trust your intuition?  How does it come to you?
Have you ever had a strong wish to die?  What brought you back to aliveness and gratitude?
How does your memory seem as you get older?  Do you have fears about it?  What strategies help you adjust?
In what ways have you sensed there's more to life than the rational mind can comprehend?
Have you had intimations of an afterlife?
Do you pray?  Has your prayer life changed over the years?
What are the most important things you still want to do?
---
Press about the Book
---
Endorsements
"The December Project is a biography of a spiritual genius preparing for his last day by helping us prepare for our next day. If you don't know Reb Zalman, please let Sara introduce you to him. If you do know him, please let Sara introduce you to him more intimately. This is a wonderful book."
—Rabbi Rami Shapiro
Author of Perennial Wisdom for the Spiritually Independent
"An exuberant piece of writing I found both moving and instructive. What makes it so rich for me is that Davidson owns 'a seeker's heart and a skeptic's mind.' There's a great comic aspect to this, as you watch her take what the Rabbi says, worry it, try to adopt it and then find the loop hole. It's a dual portrait of the journalist and the Rabbi, with just the right balance."
—Will Blythe
Former literary editor of Esquire
Author of To Hate Like This is to be Happy Forever
"Sara Davidson has written a gem of a book for anyone of any faith tradition. Reb Zalman is wise, funny and irresistible. You will want to read this book cover to cover."
—Sharon Salzberg
Author of Real Happiness and Lovingkindness
"For boomers who wish to devote serious attention to questions of meaning as they experience ineluctable aging, this book of intense, personal conversations leavened with profound insights is an excellent place to begin."
—Publishers Weekly
framed review
"Sara Davidson brings us the dialogue we dream of having: where we can place our darkest doubts and fears, our most ornery questions, in the loving embrace of a profound elder, who is grooming us patiently for what's waiting around the inevitable corner of our lives. This is a book you can devour in a sitting and feel like you have just visited the most intimate of spiritual guides."
—Rabbi Tirzah Firestone
Author of With Roots in Heaven and The Woman's Kabbalah
"Anyone embarking on The December Project is in for a surprise: there is as much laughter, healing, and deep peace in these pages as sober reflection on being human. Above all, this book is a testament to the rich rewards of conversation between fearless friends."
—Barbara Brown Taylor
Author of Learning to Walk in the Dark
"The December Project embodies deep spiritual wisdom: the antidote to worrying too much about mortality is to face it squarely and live more fully today. A lovely book."
—Marianne Williamson
Author of A Return to Love
"Renowned journalist Sara Davidson has drawn out new, previously unrevealed dimensions of Reb Zalman, one of the great teachers of our age. Listening in on their conversations is both mind and soul expanding."
—Rabbi Joseph Telushkin
Author of Jewish Literacy, and Hillel
"Anyone who has had the opportunity to spend private time with Reb Zalman, to be in spiritual intimacy with him, knows it is a life-changing experience. Sara Davidson has had that experience, and now through her writing, you can too.
—Rodger Kamenetz
Author of The Jew in the Lotus
"Thoroughly engaging, this book about the winter season of life glitters with insight and wisdom—for all our years.  Sara Davidson has done a great service in recording the experience and advice of a remarkable elder and teacher. Rich food for thought."
—Andrew Weil, MD
Author of Healthy Aging and Spontaneous Happiness
"Rabbi Zalman Schachter Shalomi is the most creative teacher and practitioner of Jewish spirituality in the Western world. Sara Davidson's lively engagement with his teachings highlights a curious and creative mind and a beautiful soul that we are blessed to be able to encounter through this book."
—Rabbi Michael Lerner
Editor of Tikkun Magazine
"This is not a morbid book about the end of life, but a bright, spirited discussion between a great teacher and a sincere seeker.  This is a book that can change your life. "
—Larry Dossey, MD
Author of One Mind and Healing Words:The Power of Prayer and the Practice of Mediciine